Creative techniques of HUAWEI Matebook D14 to be accessible in the workplace
Today youths don't consider a laptop to use for work but sometimes listening to music, watching movies as a pleasure. Therefore, in Matebook production, HUAWEI produces "Capacity" as a priority alongside with second importance: "User Experience" and analyze the "Quality". Among HUAWEI MateBook D-Series, CPU uses all quantities of combustible power and will get the best performance. In User Experience, to be more accessible, the feature will be connected easily the interval between smartphones and PC which are created by innovative technology.
The performance is directly related to how we consider that a computer is good or bad. In the last decades, although a laptop market is dominated by Intel and Nvidia, incapacity, and innovation, AMD got a position among the market and consumers in parallel with Intel. After AMD had introduced Zen Architecture, AMD occupied the market shares of Intel to some extent and the first 2000 Series Processor of Ryzen Mobile was also introduced in 2017. This processor is made with 14nm Process and was launched by Vega Graphics. After two years, the second generation: 3000 Series had been introduced and got success among the media community and market. Ryzen 3000 laptops can be purchased at cheaper prices than the Intel system. When compare with performance, it is better and this will be a choice for consumers and youths.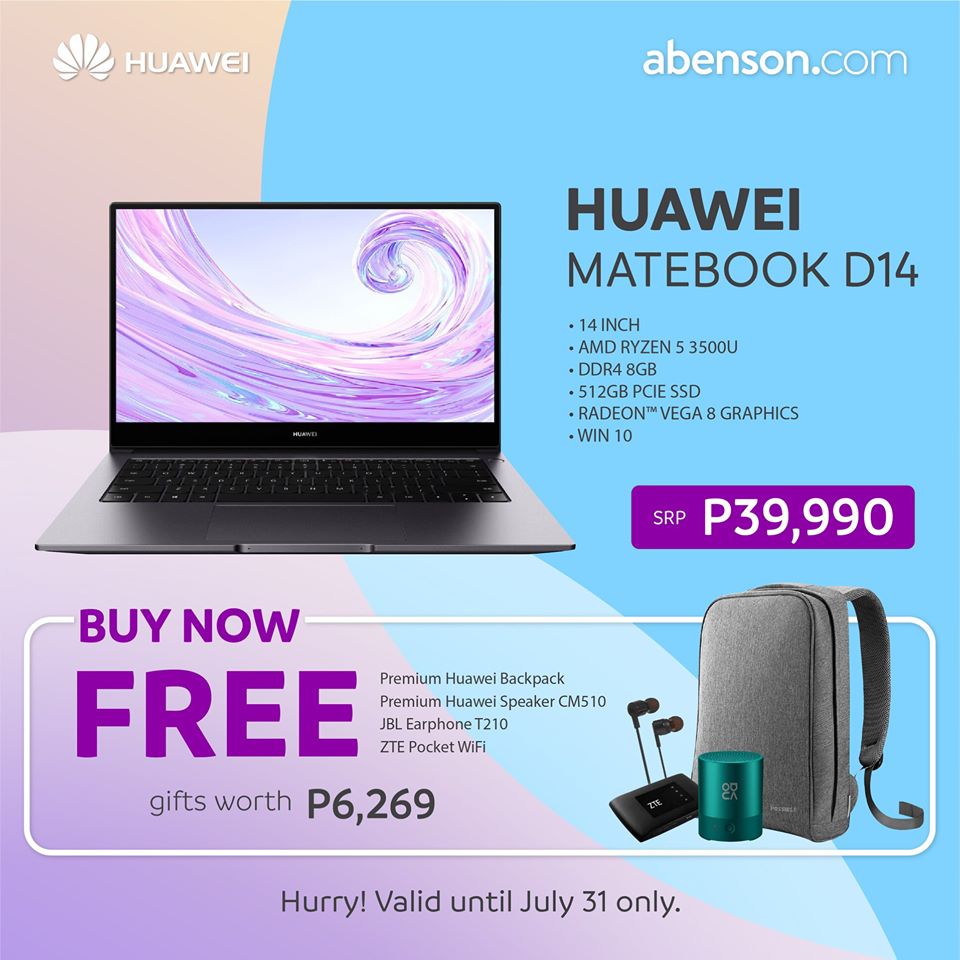 Photo Source https://consumer.huawei.com/mm/campaign/matebookd14matepad-preorder/
HUAWEI MateBook D14 uses second generation: Ryzen 7 3700U Processor, which is based on the 12nm Process and contains 4-cores and 8-threads. Ryzen 7 that runs with 2.3GHz Base Clock can boost the highest frequency up to 4GHz and Graphics are powered by Vega 10. According to AMD, the performance is higher than first-generation and 10% in Single-core Performance, and 15% in Multi-core are faster as well. It also reduces battery usage and therefore it sufficiently supports the enhanced performance of a laptop. That being that, when a consumer might use a laptop for work or for school or for the game by forcing Graphics Processing operation,
it has a high performance. Ryen 7 3700U and Vega 10 Graphics can run well in Performance and can also support 4K HDR Decoding, Sublime Image Rendering. For using these functions without interruption, HUAWEI carefully designed and tested in Research and Development and re-created Ryzen Processor for higher performance.
The next challenge of a laptop with enhanced performance is heating. Huawei MateBook D14 uses Shark Fin 2.0 Cooling technique to reduce heating and cooling and S-shaped Fan Blade makes ventilation better as well. What makes a new Cooling technique special is its Fan design. Using more quantities of slender Fan Blade makes Fan Speed in good condition.
The third feature is that 56Wh (Rating Value) Battery of MateBook D14 and it was designed that the durability will last depending on usage. For example, if you watch a 1080p video, it continuously is durable for about 9 and a half hours. If you continuously use internet Browsing, it can be durable for over 9 hours. But if you use casually, it will be durable to 10 hours according to the experiments. The reason of this durability is a large battery and you don't need to worry about the durability when you have to go out.
HUAWEI have careful attention to detail in arrangement to charge Huawei MateBook D14 for better User Experience. It won't be comfortable with a heavy charger though laptops become portable. Huawei Matebook D14 replaces the removable 65W USB-C Charger. It was getting smaller than before and also getting better in portability as well. Plus, it can be used to charge the smartphone and tablet with USB-C Port and at the same time, the cable can be used as a Data Transfer. Huawei phone users will be more accessible because Huawei P40 Pro and Huawei nova 7i can be charged with 40W Fast charging. It is designed to be versatile and be safe by adding Overheat Protection Feature as well. When it reaches the limited temperature, charging will be automatically disconnected.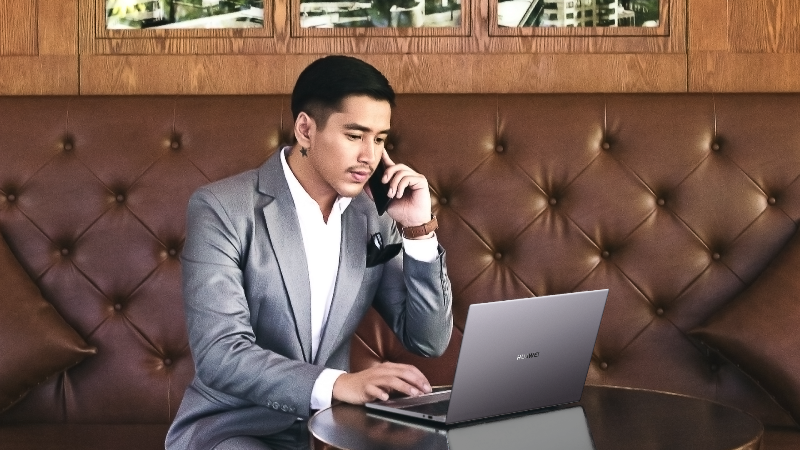 Photo Source https://consumer.huawei.com/mm/campaign/matebookd14matepad-preorder/
Huawei Matebook D14 uses SSD instead of HDD to be trendy and have an elevated experience for users. To offer higher performance, SSDC (Solid-state Disk) must have considered and MateBook D14 uses PCI-e SSD. In contrast with the SATA interface, the PCI-e interface differs 5 times in Performance and you will get smooth experience when using applications and playing games. In addition, MateBook D14 uses two DDR4 memory sticks as Dual-channel and includes 8GB storage. It is 50% faster in Data Transfer Rate than Single channel and without interruption in using the application with much loading.
A high-performance WLAN Module is attached to be smooth in using the internet. As this Module supports 2×2 MIMO and uses Dual-wireless Antenna design, the high-speed internet can be used with good WLAN Signals. The last feature is I/O Ports, essential for a laptop. MateBook D14 includes one USB-C port, one USB 3.0 Port, one USB 2.0 Port, one HDMI port, and 3.5mm Headphone Jack Port. Therefore, it has enough I/O Ports to transfer data, to listen to music, and to charge. To be concluded, the Ultralight category: MateBook D14 laptop is light and compact and also good in performance as well and therefore youths will get better and new experiences. HUAWEI Matebook D14 can be preordered in a nearby store from July 10 to July 31 with $699. Every customer will acquire Bluetooth Mouse and Backpack, HUAWEI CPE, and Bluetooth headphones for pre-order. For more detail information, you can check the following link:
http://consumer.huawei.com/mm/campaign/matebookd14matepad-preorder/