The Official Launch of Innovate to Nourish (I2N) Myanmar Challenge is on 20th August (Friday) 2021.
The I2N Myanmar is aimed at identifying "Innovative Solutions" in the food systems that target and contribute to increased demand, availability, and affordability of safe, nutritious food, and support them to develop and scale. Moreover, it aims to help them to develop linkages with investors, academia, and the food industry at large to secure investments and develop partnerships.
During the event, Mr. Lucas Alamprese, Head of Nutrition from the World Food Program will be sharing the background of the nutrition challenges in Myanmar and how SMEs and startups are playing an important role to address these challenges through innovative solutions. Also, U Ye Min Aung, Vice President of UMFCCI, Chairman of Myanmar Rice Federation, will be delivered the Opening Speech of Innovate to Nourish (I2N) Myanmar Challenge.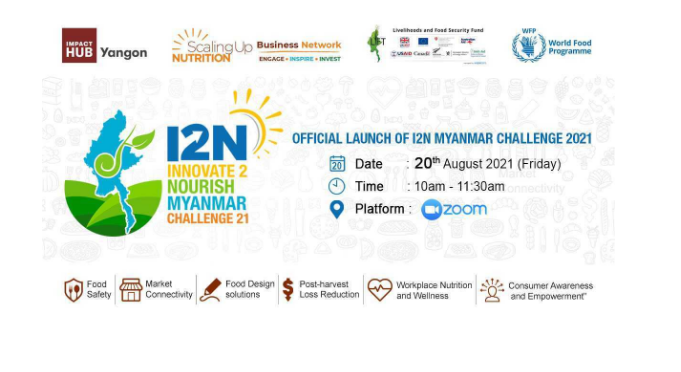 Photo Source https://bit.ly/i2nmyanmarchallengelaunchevent
In addition, representatives from SBN Myanmar and Impact Hub Yangon will introduce I2N Myanmar Challenge 2021 and answer questions from the media.
The press conference will be held online and the details of the event are as follows.
Date: 20th August 2021 (Friday)
Time: 10 AM to 11:30 AM
Register the following link for the event.
https://bit.ly/i2nmyanmarchallengelaunchevent
Interviews can be conducted in the Q&A section. The attendees will be given 5GB of internet data if they attend the event.
In 2010, the Scaling Up Nutrition (SUN) Movement was launched to support national leadership and collective action to scale up nutrition. The SUN Business Network (SBN) is one of the four global networks that support SUN countries (along with UN, Civil Society, and Donor Networks). It is convened by the Global Alliance for Improved Nutrition (GAIN) and the UN World Food Programme (WFP) and further supported by an Advisory Group composed of senior business leaders. The SBN aims to reduce malnutrition in all its forms through mobilizing businesses to invest and innovate in responsible and sustainable actions and operations. To do this SBN provides a neutral platform to broker partnerships and collaboration between business and all actors on nutrition at the national, regional, and global level to support SUN Country plans.