Enjoy up to 5% cashback by topping up with M-Pitesan application
M-Pitesan is offering enjoyable cashback for its mobile financial service users that the customers will now be able to receive cashback gifts every time they top up their phone using the M-Pitesan Application.
M-Pitesan is offering a reliable mobile financial transfer service and the customers can get the service by using the M-Pitesan application as well as the M-Pitesan Agents. The customers can top-up any mobile number, transfer money, and payments using M-Pitesan anytime and anywhere conveniently.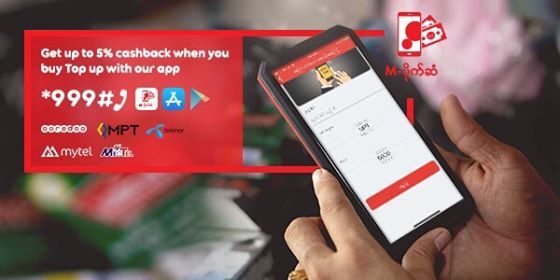 Photo Source https://www.facebook.com/MPitesan/
It is better for avoid crowded places to take care of our health and safety. The customers are now encouraged with the up to 5% cashback plan to top-up their numbers using the M-Pitesan application without having to go out. Topping up with M-Pitesan is a convenient way for users without having to go out and they can do it at home and in their office with their smartphone.
M-Pitesan Application will offer 5% cashback for topping up any Ooredoo number, 3% cashback for other operators such as MPT, Mytel, and MECTel numbers, and 2.5% for topping up Telenor number. The refund amount will be added to the customer's M-Pitesan account immediately.
With M-Piresan Application, customers can pre-register flight tickers, bus tickets, hotels, and tours through the travel service of Flymya.com. Ooredoo Myanmar's M-Pitesan users can now pay for travel expenses, purchases, and payments online.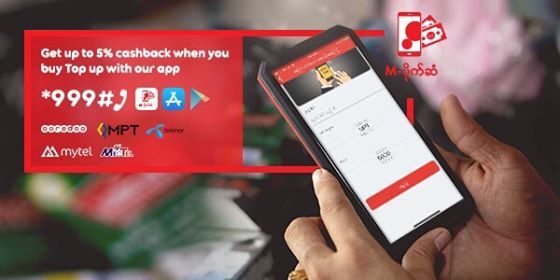 Photo Source https://www.facebook.com/MPitesan/
The users can download the M-Pitesan application by dialing *999# or from Google Play or App Store. M-Pitesan money transaction service was launched on 19 September 2017 and any mobile users can use this application. Any mobile users can transfer money by visiting Ooredoo M-Piresan Agent.
Currently, there are now more than 2,500 Ooredoo M-Pitesan Agents in Yangon, Nay Pyi Taw, Mandalay, Bago, and Taunggyi and will soon be expanded to 8,000 from rural and across Myanmar.