MPT's Latest Top-Up Promotion Offers Facebook Data Bonus for its Customers
MPT continues to offer exciting promotions for its customers, and today the operator announces a special "Top-Up Bonus for Facebook Data" promotion to offer its data-hungry customers with bonus data for Facebook and Messenger usage.
Customers can take advantage of this promotion and receive bonus data when they top-up specific denominations using voucher cards via the MPT4U channel. Additionally, customers will be automatically entered into the "Ngwe Moe Phyai Phyai" Lucky Draw program for a chance to win many exciting prizes.
MPT has a long history of delivering excellence in service, and availability of money-saving offers for its customers with the promise of "Keeping Myanmar Connected". This special promotion is available to MPT GSM/WCDMA Prepaid customers (Swe Thahar, Shal Pyaw, Shwe Zagar) where bonus data received. Customers can top-up daily without limits where the bonus data quota will be merged with the amount and validity of the latest top-up bonus received.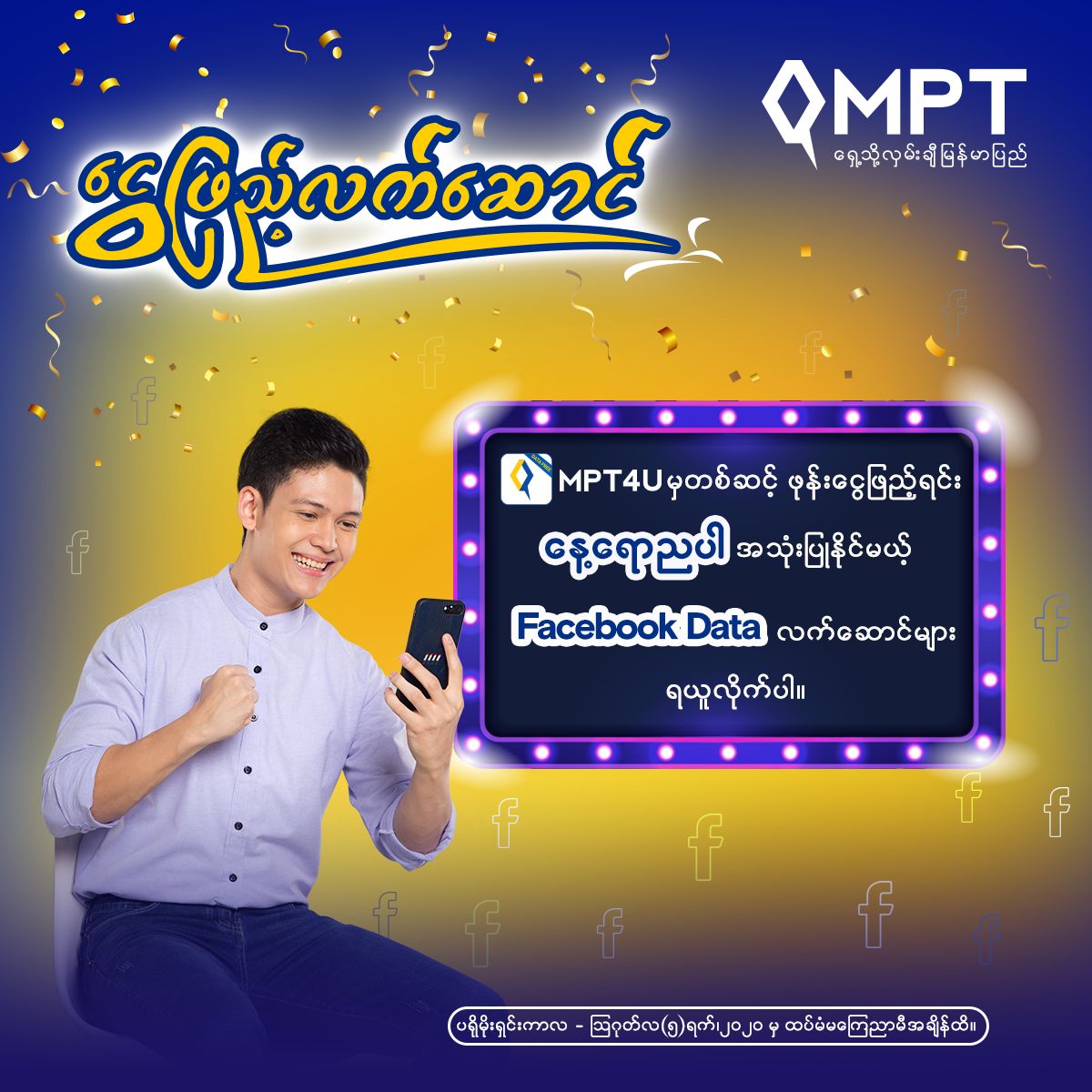 Photo Source https://web.facebook.com/mptofficialpage/
"At MPT, we are constantly innovating to provide a superior customer experience with great value. With the new top-up bonus data for Facebook promotion, we are making it even easier for our loyal customers to enrich their digital lives over MPT's award-winning networks. Along with the on-going Data Carry Plus with Free Night Facebook offer, we are creating opportunities for our customers to stay socially connected with friends and families on their favorite social media platform," said Mr. Tetsunori Nagashima, Chief Commercial Officer of MPT-KSGM JO.
With this top-up bonus data offer, MPT customers can enjoy Facebook App (excluding links directing to external websites), Messenger (excluding voice and video calls), and access to Facebook via a browser. Additionally, customers can have access to Messenger Voice and Video calls using existing data packages or at pay-as-you-go rate, whichever is applicable.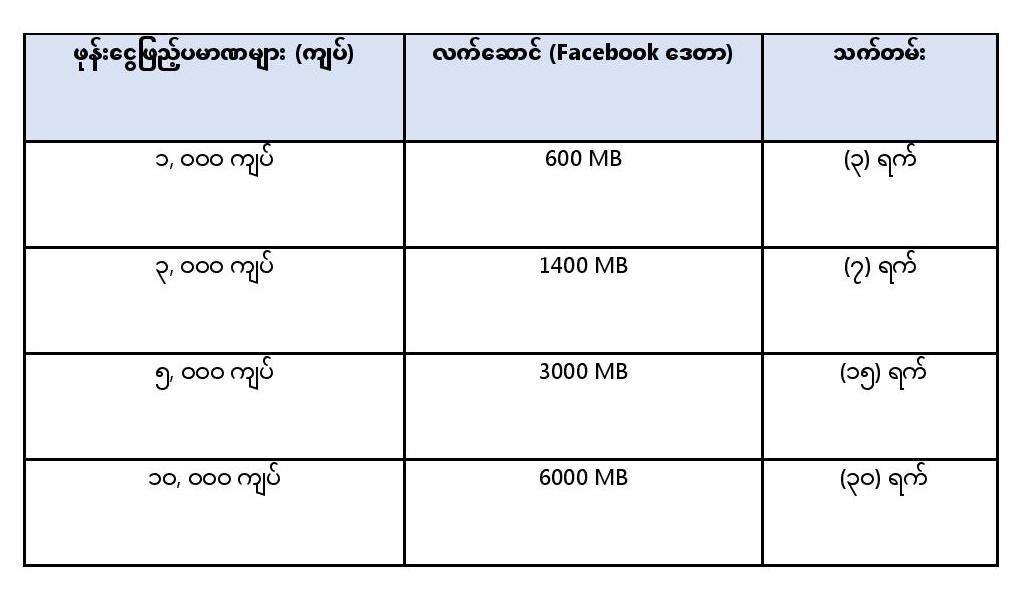 Photo Source https://web.facebook.com/mptofficialpage/
Recently, MPT also introduced "Super Data Double Package", offering double data for purchasing internet package for its loyal customers.
MPT's Super Double Date Pack can be purchased by those who have subscribed to GSM/WCDMA services using the prepaid system of Swe Thahar/Shal Pyaw/Shwe Saka Plan. Basic Tariff users can switch to Swe Thahar/Shal Pyaw/Shwe Saka plans to purchase "Super Double Data Pack".
Users can purchase packages an unlimited number of times. The original data period of the package is 30 days and if you purchase a new data package within 7 days after the expiration date, the remaining amount of original data can be used up to the expiration date of the re-purchased package. "Super Double Data Pack" is valid for 7 days and if you purchase a new package during that period, you will be able to consolidate the amount of data between each Super Bonus Data.
Customers can check their Facebook Data Gift Expiration by dialing *224# or using the MPT4U App.