Ooredoo and UNDP collaborated to perform SEAD Project with innovative technology
The signing ceremony of Ooredoo Myanmar and UNDP Myanmar as a Partnership Agreement is held for supporting the implementation of the Sustainable Enterprises and Agricultural Development (SEAD) Project on December 16, 2019.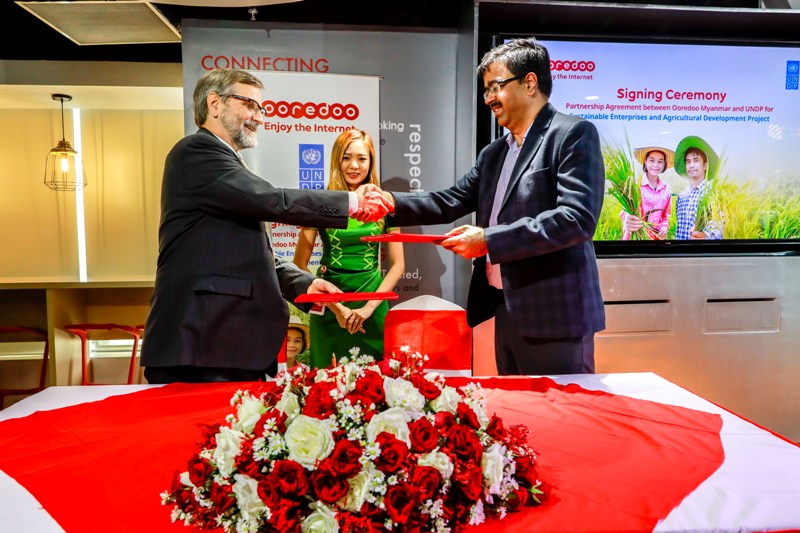 Photo Source By Myanmar Tech Press
This project aims to establish an inclusive and sustainable rural development model in Myanmar's Dry Zone Leveraging advanced mobile technology of Ooredoo and UNDP's experience in promoting climate resilient farming practices in the Dry Zone region of Myanmar. For that reason, 130 target villages in Myingyan and Naung U townships are expected to directly benefit from the 15 months project.
The SEAD Project will provide income diversification and resilient livelihoods; virtual climate advisory services and good sustainable agricultural and livestock breeding practices in partnership with key government counterparts; match demand and supply for sustainable farming, livelihood related inputs for farmers and services and support agriculture and livestock value addition and connect farmers to credit (through use of mobile money) and markets to vulnerable farming communities in the dry zone.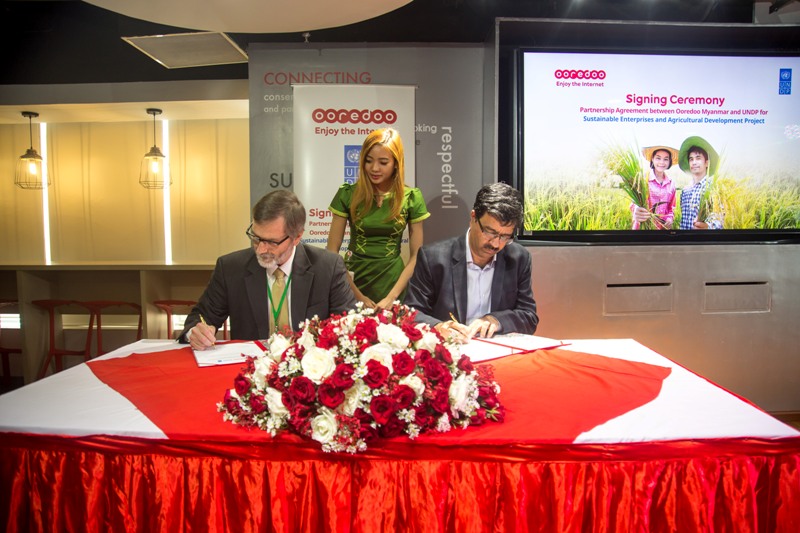 Photo Source By Myanmar Tech Press
"We are pleased to announce this partnership with UNDP mainly because we believe that mobile technology plays an important role in rural development. This project is aligned with our vision of "Enriching people's digital lives" because improving access to mobile communications and information technologies for rural communities is essential to connect them to a word that will open up with greater opportunities and knowledge sharing enabling fast-track development. We are proud to be a part of this digital transformation that will create a better life for everyone" said Mr. Rajeev Sethi, CEO of Ooredoo Myanmar.
"The private sector has a key role in achieving the Sustainable Development Goals. With this realization, UNDP Myanmar and Ooredoo Myanmar signed a MoU in November 2018 committing to collaborate and innovate for the achievement of the SDGs in Myanmar. UNDP is pleased to continue this partnership through the SEAD project. The SEAD project will make it possible for rural communities to overcome their area specific development bottlenecks and realize their full potential through mobile ICT driven market linkages as well as enhanced productive capacities," said Mr. Gordon Johnson, UNDP Resident Representative.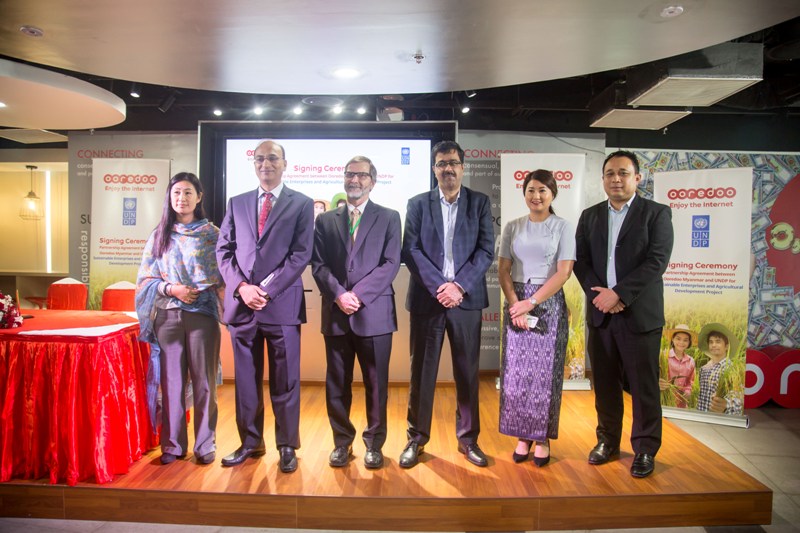 Photo Source By Myanmar Tech Press
Ooredoo Myanmar and UNDP Myanmar signed a MoU on 9 November 2018 entering into a two-year partnership to undertake catalytic joint activities to unlock the potential of digital technologies for the achievement of the SDGs in Myanmar.