Samsung Myanmar organizes its Employee Volunteer Program for the students from the University of Information Technology
Samsung Myanmar has collaborated with the University of Information Technology (UIT) for this year's Samsung Employee Volunteer Program, an annual Samsung Global Volunteer Festival, by organizing their first-ever virtual seminar for the young students of UIT on November 25th, 2020, with the focus on the employment opportunities and improving skills in the post-COVID situation.
Since 1995, Samsung has been organizing the Global Volunteer Service Festival which encourages its employees to volunteer their time to citizenship activities aimed at addressing problems faced by local communities. Normally taking place in October every year, Samsung employees all over the world donate their time and talent to create and drive a positive impact in the community where they work and live in.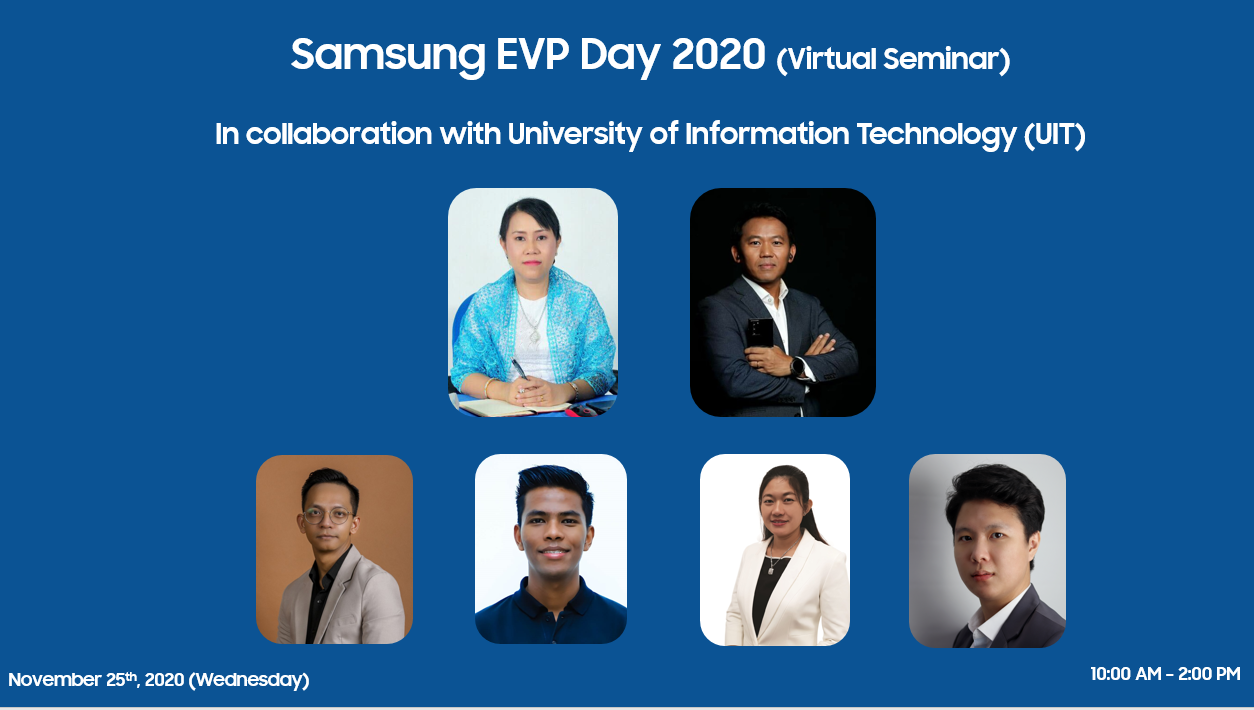 Photo Source https://web.facebook.com/SamsungMyanmar
Attended by over 160 students from the University of Information Technology, this year EVP program involved four speakers –Ko Zarni Win Htet, Head of Business Group and Ma Su December Soe, Product Marketing Manager from Samsung Myanmar and Ko Myo Theinkha and Ko Wai Lin Phyo who are the 2 alumni of UIT: During the virtual seminar, the speakers shared the topics related to technical and soft skills required to secure suitable employment positions and also to cope in the real-life work environment in the post-COVID situation. The topics have attracted the interest of the students, and a series of interactions and Q&A sessions were involved as well.
As part of this year's program, Samsung Myanmar also donated 1 unit of 55" Samsung UHD (4K) smart TV and 4 units of Samsung 2.0 HP air conditioners for the university's library along with cash support of MMK 20 Lakhs. "While being known globally for the most innovative and quality products, Samsung is always striving to accelerate our sustainable community outreach program, "Samsung Love & Care" which is aligned to our global vision for CSR efforts of Enabling People," said Ko Soe Thura, Head of Corporate Marketing of Samsung Myanmar.
"Despite the challenges due to the current situation, we have successfully managed to contribute to our younger generations and also the education sector of the country with our first-ever virtual EVP event. We would like to express our gratitude to the rector and faculties from the University of Information Technology, our volunteer speakers, and the attending students for this event, and we believe that the knowledge and skills shared during the seminar will be able to help the students meaningfully in their real-life work environment after their graduation," he continued.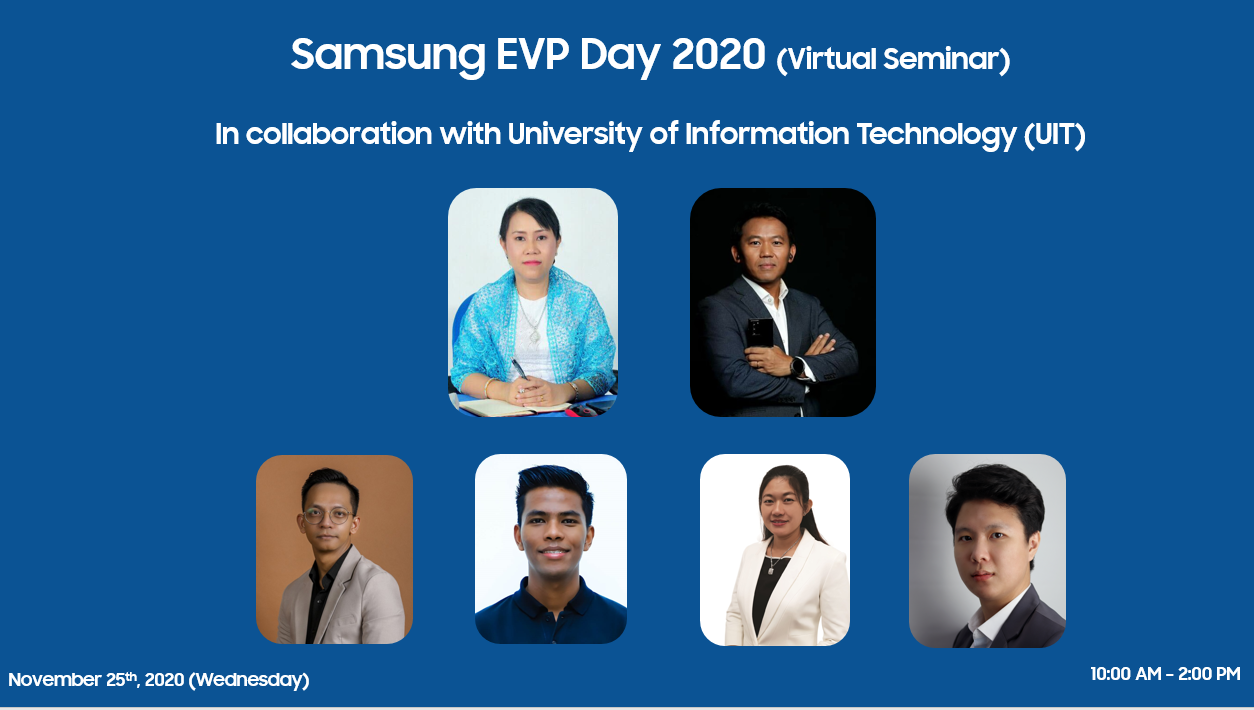 Photo Source https://web.facebook.com/SamsungMyanmar
Samsung Myanmar started its first "Employee Volunteer Program" at the Pan Pyo Latt Monastic Education School in 2015. Over the years it has cooperated with Myanmar's Network of People with Disabilities in 2016, with Aung Myay Monastic School in Dagon Myothit in 2017, and with the School for the Blind in Kyee Myin Daing Township, Yangon Region in 2018. Last year, the program took place at Daung Kway Basic Education Post- Primary School near Inle Lake where 90% of the employees spent a day through education to the young students and providing supplies for the school. Throughout the last five years, the program has benefited more than 1,700 youths across Myanmar.
"Public-Private Partnership is very important for universities. We are very honored to collaborate with Samsung Myanmar for this knowledge sharing webinar when the universities are closed due to COVID -19. We would like to thanks all the veteran employees from Samsung and alumni from UIT for sharing the experience that the students should have before they get into the real-life work environment. As a rector, we are not only upskilling them to be technology experts but also would like to educate them about Dos and Don'ts, manners,s and attitudes in society. Special thanks again to Samsung Myanmar for supporting in shaping the students into the better version," Said Dr.Saw Sanda Aye, the rector from the University of Information Technology.