SUNNY eSTORE and Unilever Partner to Make Everyday Purchases Safer and More Convenient during the COVID-19 Pandemic
SUNNY eSTORE, a new e-commerce platform in Myanmar that is looking to build deeper consumer trust in online shopping, has signed a partnership with global FMCG Company Unilever to allow customers to easily shop a wide range of Unilever's household essentials from the safety and comfort of their own home.
Delivering nationwide, SUNNY eSTORE focuses on offering genuine quality products at affordable prices, allowing Myanmar consumers a 24/7 hassle-free shopping experience via its website (www.sunny.com.mm) and mobile app which can be downloaded from the Google Play Store or Apple App Store. SUNNY eSTORE customers can enjoy access to popular food essentials, beauty products, consumer electronics, home and office appliances, and household essentials from top global and local brands. Easy and secure cashless payments are possible using the KBZPay mobile wallet and free delivery is provided nationwide for orders valued at more than MMK 20,000.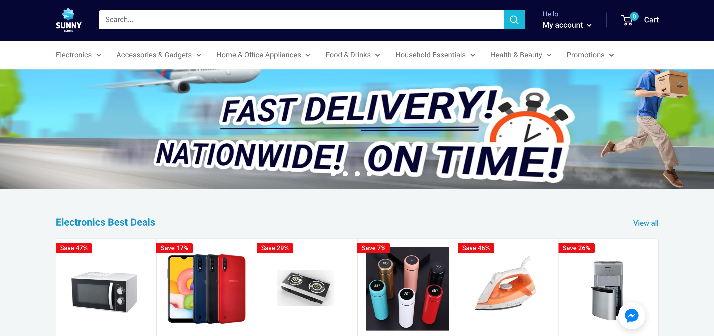 Photo Source https://www.sunny.com.mm
Tapping on the growing adoption of e-commerce among Myanmar consumers in the wake of COVID-19, SUNNY eSTORE has partnered with Unilever to provide a safe and reliable platform for consumers to buy household consumer goods from Unilever's official store (https://sunny.com.mm/collections/unilever-promotion).
To celebrate this first of its kind collaboration with Unilever, SUNNY eSTORE is offering discounts of up to 50 percent on leading Unilever household, personal care, beauty, and food brands including POND's, Dove, E-Lan, LUX, and KNORR from 18 to 27 September 2020 at https://sunny.com.mm/collections/unilever-promotion.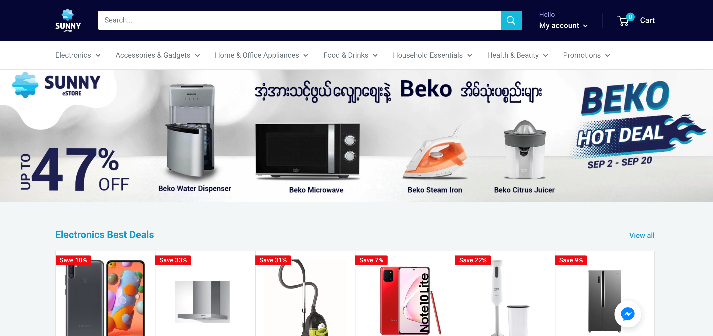 Photo Source https://www.sunny.com.mm
Mr. Francis Smulders, CEO, SUNNY eSTORE said, "At SUNNY eSTORE, we provide a trusted, convenient, and affordable alternative to visiting physical shops. During these challenging times when social distancing is encouraged, customers can enjoy peace of mind by doing all of their shopping of various products on our platform. We are delighted to partner with Unilever, and to provide them with a Digital Storefront so that customers can order and have high-quality daily essentials delivered right to their doorstep, anywhere in Myanmar. This partnership endorses our one-stop platform strategy to support the development of online sales for top brands in the country."
"E-commerce is the fastest-growing channel in Myanmar, making it vital for us to find innovative ways to address the needs of our consumers, allowing them to shop when and where they want. We believe this pioneering partnership with SUNNY eSTORE will set new standards in customer experience, supply chain, and digital marketing, helping our brands reach more consumers across the country", said Srikanth Srinivasamadhavan, Managing Director of Unilever EAC Myanmar Company and Vice President of Unilever Myanmar, Cambodia, and Laos.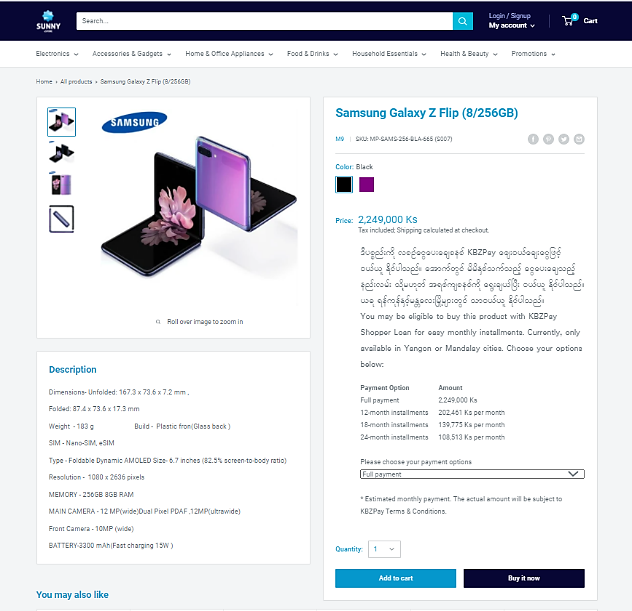 Photo Source https://www.sunny.com.mm
The future of e-commerce in Myanmar is promising. In recent months, many of SUNNY eSTORE's customers have been first time online buyers who turned to online shopping because of the COVID-19 pandemic, leading to the doubling of sales on its online platform in just three months from April 2020 to June 2020.
SUNNY eSTORE's customers have been loyal to the platform for its promise to offer only quality authentic products, convenient delivery arrangements, and competitive pricing.
SUNNY eSTORE works with genuine merchant-partners to ensure customers receive the same authentic and high-quality products that they would get at authorized physical retail outlets. Within a short period of time, SUNNY eSTORE has become the best-selling online channel for a number of its merchants.
Check the link below for more information
Website: https://www.sunny.com.mm
Facebook: https://www.facebook.com/sunny.estore