How to manage the team project in the easiest way
As technologies are developing rapidly day by day and in the era of being able to work anywhere if the internet connection is available, there is needless to go to office just to read the tasks on white-board and just to update on the finished work. It is easier to manage the task from afar if all of the contributors in the project are using the same modern task management system right from the start of the project. Whenever doing the group projects at school or working in groups, it is important to communicate timely among team members in case of closed and continuous discussion is needed. Not only for IT jobs, it is necessary for every job in every industry like marketing team, design project or any job working within deadlines to get this kind of consistency. As it contains various features, the task management system is widely used even for the individual project. Working remotely will only be effective if every team member's work load conditions, such as what are done and what are still left undone, are visible and up to dated. Working remotely does not practically smooth as it sounds if files were attached in email as in old days and it is difficult to get connected with other people. Messaging apps are only for short discussion and long, factual and complete presentation can't be done using those kinds of apps. For all those reasons, the following productivity tools are used more and more these days. They include many functions for instance adjusting timeline, drawing Gantt chart. For example in SCRUM, there are SCRUM sprints (team members' repeated performances in allocated fixed time period) and work-flow (track progress) which can be used according to the user's preferred method. When using these tools, not only focus on the collaboration with team members is needed but all the other possibilities like how the visual representation is shown, use Gantt chart or not, how to adjust timeline, need put into consideration. If the project involves data in or out, the project can be controlled as the user wanted by choosing how to organize the data. But those tools can have downsides and so it is necessary to choose the right application. Some applications are very complex and present little transparency. Let's say a new task is added. It only shows the person the task comes from and some other steps, such as who assigned the task, how far has done, next task has started, are missed to display.  For all those inconveniences can cause extra work in getting familiar with the tools if the work is required to meet tight deadline. In this article, some of the most used and user friendly project management software/features used by both small projects from Myanmar and big business sized projects are going be presented including their downsides and upsides and it will be solely based on the users' experiences. All are freeware and upgrade is needed for the additional features. Or it could be user limited and based on the number of projects. All of the presented applications here can be used in all Android, iPad and iPhone.
Asana
Every tool has its own unique feature. Asana's feature is organizing the tasks. It can also be used for meeting agenda. It shows the finished work of project on its application dashboard. It divides the project into sections and subtasks. User can add and rearrange the list. The conversation can be done inside sublist too. But the tasks can only be seen by assignees and followers and reacted to it.
-Asana's unique feature is that the team member can vote the idea posted using some Keyboard shortcuts.
-It is free for up to 15 users.
-Pricing is 50$ per month if the users exceed 15 and 800$ per month if the users exceed 100. Therefore it will be cost effective for the projects with the fewer members.
Trello or Slack
In Trello, lists can be separated into steps. User can add tasks, such as label, due date and checklist, and separate each task as To-do, doing, done or else development, design, distribution. There is also feature which can drag and drop the above task cards into other lists. It is very simple to manage the attachment too. Then it becomes easy to go to the tasks and comments that mention the username through notifications menu.
-Trello's special feature is power-up option in Web app menu. It will show the tasks in calendar and the priority of cards can be rearranged as the finished older tasks will automatically and slowly fade out.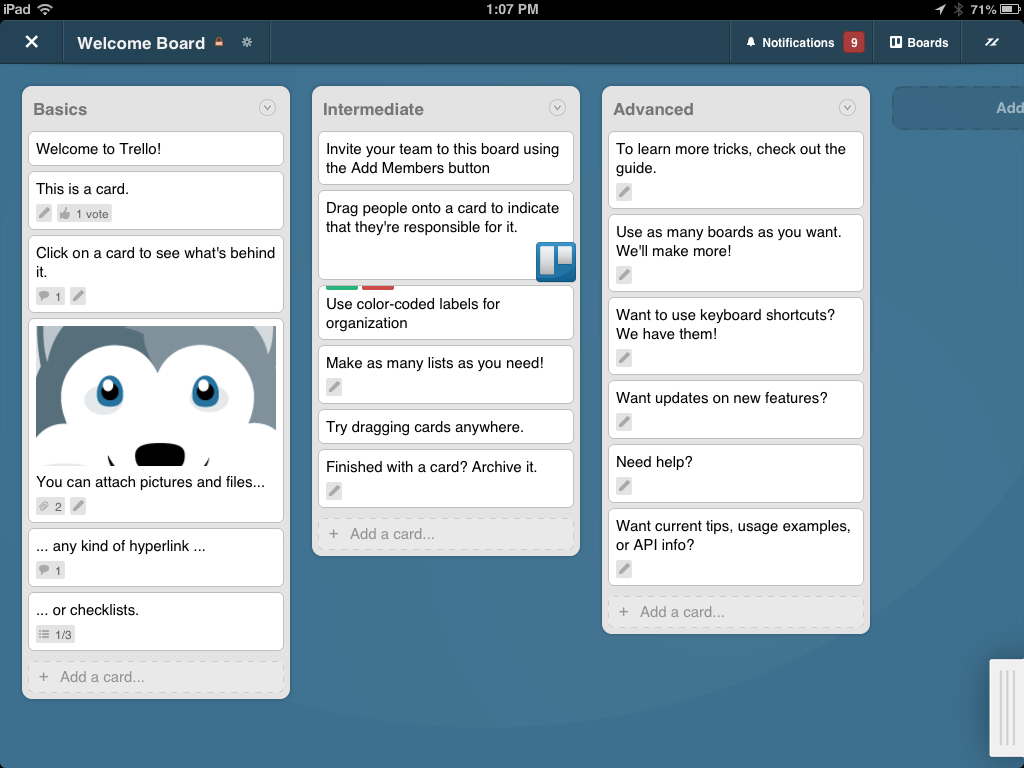 Image Source: https://tidbits.com/2013/08/30/catching-up-with-trello/
-Both are completely free.
-To become business class user, it is 5$ per month for one user and 45$ per year. This too meant for the small team.
(Slack works almost the same way as Trello.)
Slack's interface follows below.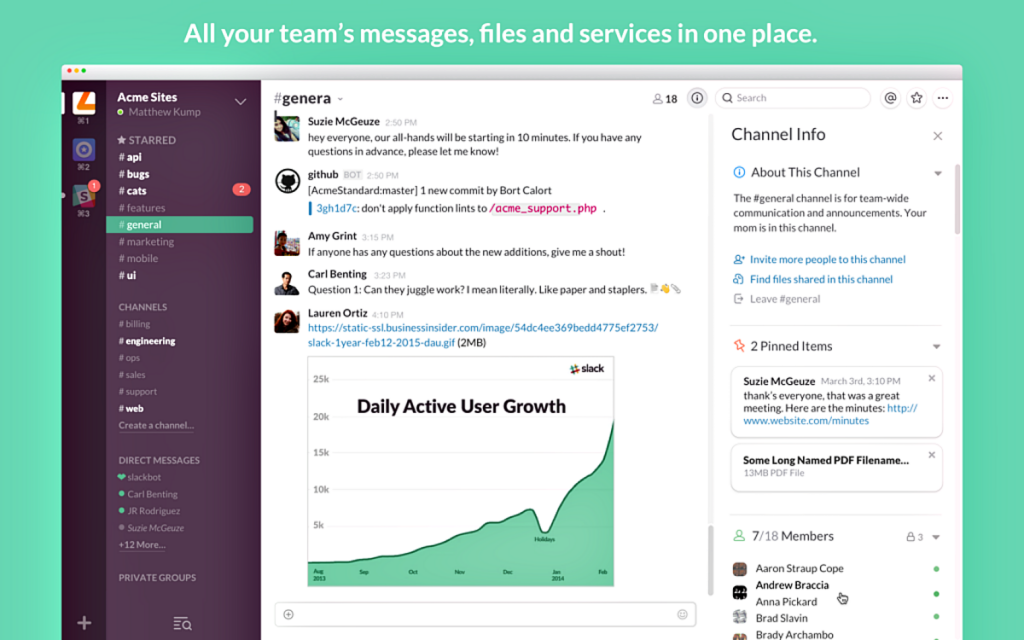 Image Source: https://www.pinterest.com.au/pin/304555993543028886/
Basecamp
It enables to work as the central location of many projects. It is popular for many discussions can be done and files can be divided into to-do lists, events and notes. The user can track self progress on personal activity log under project display. It is a user-friendly tool.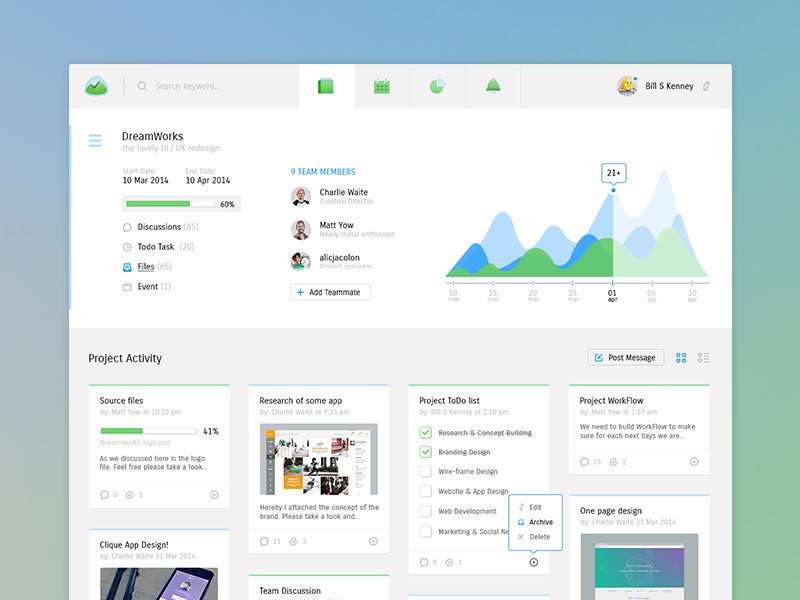 Image Source: https://basecamp.com/
-Its special feature is that discussions can be added not only in project level but also in task level. It is very convenient to transfer files.
-It is only 60 days free and so the user who wants to use for a long time will find it uncomfortable.
-The pricing is based on the number of projects. It is 20$ per month for 10 projects and 3000$ per year for unlimited projects.
-Basecamp is mainly for file management and so 3GB file storage will be given as bonus if the user buys the monthly plan and free 500GB will be given for the unlimited.
It is more suitable for the projects which need to manage many files.
Bitrix24
Bitrix24 is clear. It is a unified communication and collaboration tool for projects and tasks. It has built-in collaboration tools. It can communicate just like other applications and video conferencing with HR team or screen sharing can be done in Bitrix24. It enables to organize all tasks in the whole project and can be viewed as the Gantt chart. The workload and deadline of an employee are still available if the user wants a level up, and therefore it can make sure that no member is left out.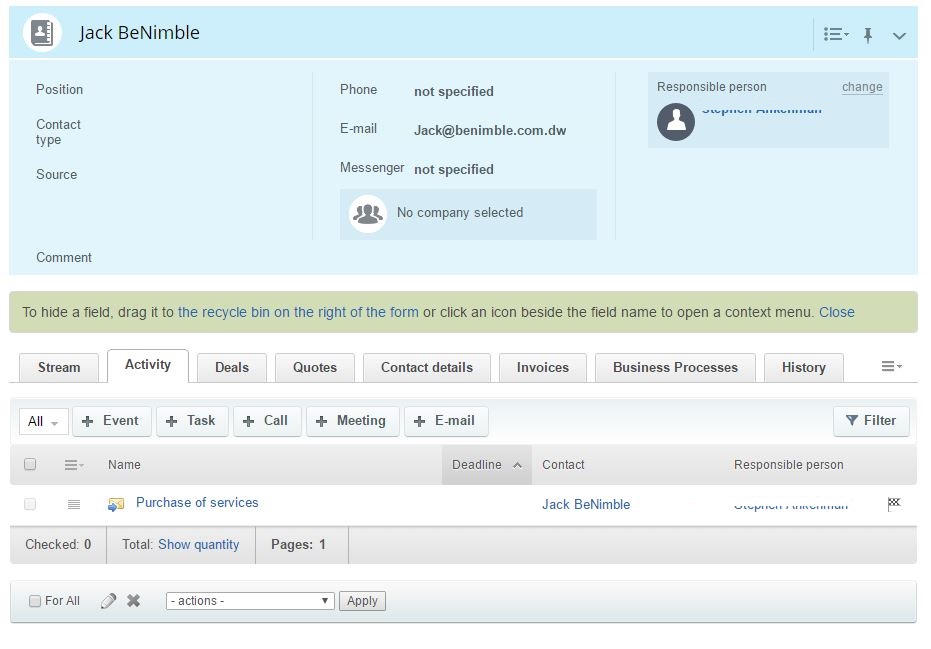 Image Source: https://helpdesk.bitrix24.com/open/2409735/
-It is free for unlimited projects.
-It is 39$ per month if the task dependencies and time management features are added.
-It can be used with MailChimp, Dropbox and slack.
It is recommended for projects with more team members.
Taiga
Taiga provides to be able to build own server which intends to use only for the staff in the company. It has much more privacy than the other. The user can customize using code or add-on. Taiga can be said as the planning platform mainly based on SCRUM methodology.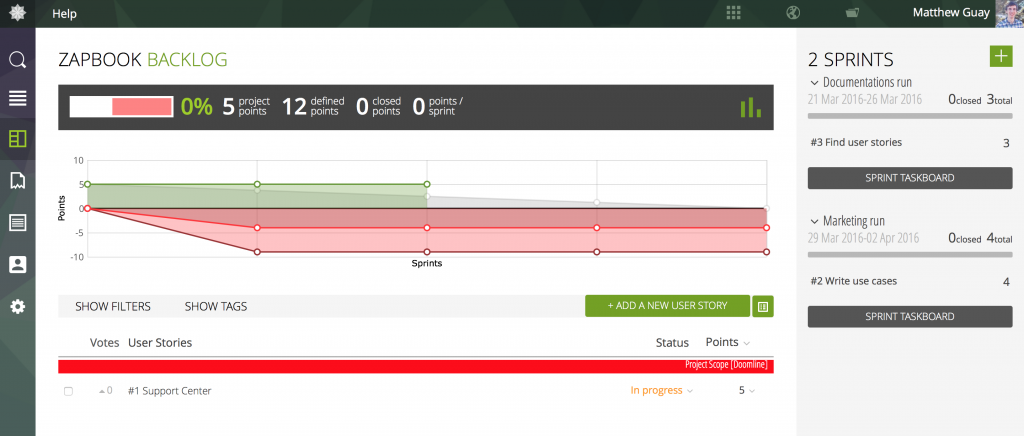 Image Source: http://int-moth.us/create-a-gantt-chart-in-google-spreadsheet/
It has SCRUM mode. It is designed for the whole team to focus mainly on the tasks with tight deadline and, as stated above, tasks are sprints in SCRUM. If the user doesn't want to use SCRUM method and want to go with workflow, it has kanban board. Like any feature, such as solving issue and writing documentation in wikis, will be the same in Taiga. There is hosted version of Taiga too. If used, it allows a lot of public projects and only one private project. If the user wants to customize, all the designs can be changed using own server.
-As said just above, the private project will be one and the public project will be unlimited.
-It is 19$ for 5 hosted projects.
Lavagna
Lavagna can be used to customize the kanban board and it is famous for it. It has server hosting too. The advantage of using Lavagna is that the user can manage many projects using connected tools the user preferred. After installing Lavagna in the server, if the user wants to use other applications such as GitHub or GoogleDocs while working, it can login through the apps and work at the same time. The only difference is that the due date of the task is shown as ics feed in Lavagna.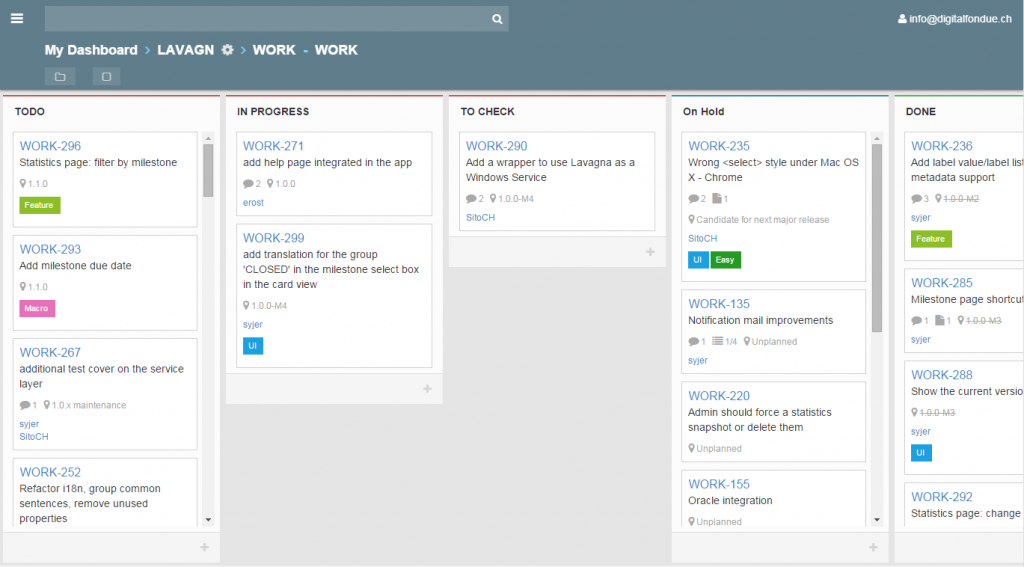 Image Source: https://zapier.com/blog/free-project-management-software/
What makes it better then is that the deadline can be seen together with other important events in the user's calendar app. The project can be divided into kanban work-flow or milestone here too. How the report is done can be seen together with the project. The dashboard is there to check the progress of the whole project.
-It is free for all hosted projects.
-It is intended for the small team project.
There are other tools which provide self-hosting like Taiga and Lavagna. For example,Redmine, odoo. These tools are not different compared with the tools mentioned above. It can be chosen based on the number of the team members. These tools are widely used in Myanmar too. I hope the readers to choose the best tools for the team when necessary after reading this article.
Mya Pwint Yadana