The launching event of the new IJ Marketplace platform to be held online
The launching event of an online website platform from Internet Journal which can customize and share business services like ICT, Mobile, Education, products, and other services will be held online on 9 January 2021 at 10 AM.
During the launching event of IJ Marketplace Platform, a panel discussion under the title of "Digital Economy and Myanmar 4.0" will be held and discuss the current state of rapid change by the experts.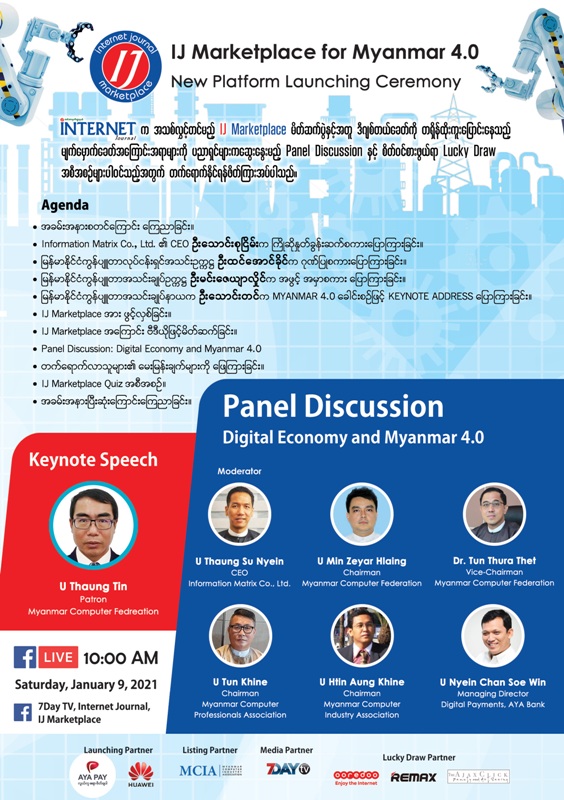 Photo Source https://www.facebook.com/InternetJournal
U Thaung Su Nyein, CEO of Information Matrix Co., Ltd. will be a moderator in the Panel Discussion, and the Panelists are U Min Zeyar Hlaing, the chairman of Myanmar Computer Federation, Dr. Tun Thura Thet, the vice-chairman of Myanmar Computer Federation, U Tun Khine, Chairman of Myanmar Computer Professionals Association U Htin Aung Khing, the chairman of Myanmar Computer Industry Association, U Nyein Chan Soe Win, Managing Director, Digital Payment, AYA Bank.
In addition to the panel discussion, there will also be interesting Lucky Draw programs. In the IJ Marketplace Launching event, AYA Pay, and Huawei present as the Launching Partner, 7Day Tv as the Media Partner, Ooredoo Myanmar, REMAX< and Ajax Click Photography as the Lucky Draw Partner, and Myanmar Computer Federation helps as the Listing Partner in this event.
This new IJ Marketplace (ijmarketplace.com) platform is a new service introduced by the Internet Journal. 

Photo Source https://ijmarketplace.com/
For launching the IJ Marketplace, Business, related topics of Socio-economic sectors like media, health, and education news which are trying to transform to the Digital Transformation, departments that must use information and communication technology (ICT) in the digital revolution, Entrepreneurs, to fulfill the needs of ICT, Mobile, Education aid, and services at a place for various organizations and the audiences, and to share a guide that includes ICT, mobile, products, and services by collaboration with ICT and Partner organizations.
To attend the event, you can enter through Zoom Meeting and Facebook Live from the following link.
https://www.facebook.com/InternetJournal
https://www.facebook.com/7DayOnlineTV
https://www.facebook.com/IJMarketplace