ShweNote, a reading app that motivates you to read more in your spare time
ShweNote Application is a must-have application for readers who loves to read and who desire to read but lack the time. At a time when technology is advancing like today, there are now a variety of options for readers whether to read printed books as before or eBooks from your phone or tablet while working, driving, or taking a rest. ShweNote is an app that allows users to read and listen to many international books in the Myanmar language in a short time. Users will be able to read or listen to book summaries of around 30 minutes.
In order to know more about the ShweNote Application, here is an interview article of the Myanmar Tech Press Team with Ma Phyo Phyo Aung, in charge of the ShweNote Application.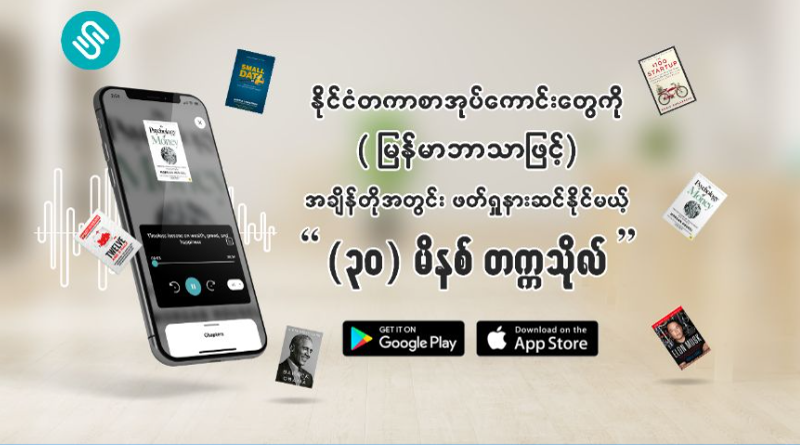 Image: ShweNote
When was ShweNote Application started? Let me know the initial idea you have.
The point is I bought the ShweNote Application. The reason I bout it was that when I was living in Austria 8 years ago, a friend showed me this kind of Book Summary App. That app allows users to read book summaries, and it was great and easy to read. There is no such app in Myanmar yet. Then, I had a small dream of creating such an app when I returned.
It's been 8 years. My very first idea was to create a Book Summary App. By the time it was actually done, someone else had already done it. I was depressed for about 2 weeks. One day, I woke up in a bad mood and I suddenly came up with an idea that I can buy this app with the belief that if I buy it, more people will know about it and use it. This period also took about 8 months. Now, the founder who started ShweNote is also working together with me on the necessary parts here.
What is the purpose of running ShweNote at the moment?
The way ShweNote is performing now is to make good people, which is a work that requires forcing one to become a good person. It is difficult but I want the people of this country to read more and create a life of self-satisfaction. The main purpose is that the people of Myanmar must read, and it cannot be difficult to read, they must accept. Thus, I am implementing it with the full intention of making reading easy.
What kind of services does ShweNote offer?
It is a book-reading app but in specific, it is a book app that summarizes international books. There are two types of summary, reading and listening. People love to listen to the audio more actually. Books categories like Best Seller, Management, Marketing, Biography, and History are provided for users to read.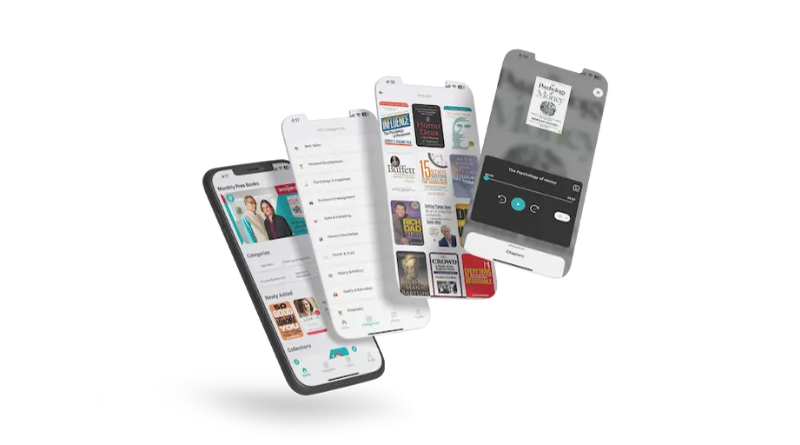 Image: ShweNote
Tell us more about the subscription.
Subscription has 3 choices for users. The target subscription is 6 months and 12 months periods while a 1-month subscription is also added as an option. If users want to purchase a 1-month subscription, users are allowed to purchase it only on the first 5 days of every month which is a careful strategy to make readers want to read more. Users request that they want to have a 1-month subscription. But we don't allow them to purchase as this is not an entertainment app like watching movies. If it's a movie app, it is sure that users will renew their subscription after the subscription ends. As for the reading app, users will not renew it carefully. If the subscription ends, they will end up postponing the day to renew the subscription. In case, if users want to purchase a 1-month subscription, it will only be available on the first 5 days of every month.
The reason I want users to purchase 6 months subscription is that I'm very angry with myself when I don't use enough after purchasing the 6 month or 1-year subscriptions. Especially for subscription, I used up all the remaining time if I haven't done anything yet. I want users to happen like this as well. The more books you read in your remaining subscription period, the happier our team will be.
The point is that we want more than the money you purchased from us and the result of reading this and being completely changed.
How do you accept payment for subscriptions?
You can use all payment methods available in Myanmar for Android. But for iOS, you can only use In-App Purchase and Redeem Code. Redeem Code can be purchased on our ShweNote Facebook Messenger and purchase subscription by redeeming through the app.
How many books have been uploaded to ShweNote so far?
More than 450 books have been uploaded so far. It has many categories to read, and a person can't spend a long time reading a history book they don't like. But if it's a summary of half an hour or 45 minutes read, you will get something for yourself if you read it for a while even if you aren't interested in. As general knowledge is something that should be studied, we added various aspects of books.
Please explain more about Collection and Challenge categories in App.
Many users are mixing collections and challenges. Challenge means that everyone likes to do a challenge. And I want to be rewarded for reading. A failure for us is a complete failure if you buy a subscription and read a lot of books.
In Collection, people are weak in making decisions especially when there are many choices. If you go to a bookstore and don't know what to buy, ask them which book on Self-Development is the best seller this month. They will eventually mention the best-selling books which made a choice for us. There is no need to choose again for collections and users can read conveniently as we provide collections like 10 Best Marketing Books, 10 books that parents should read.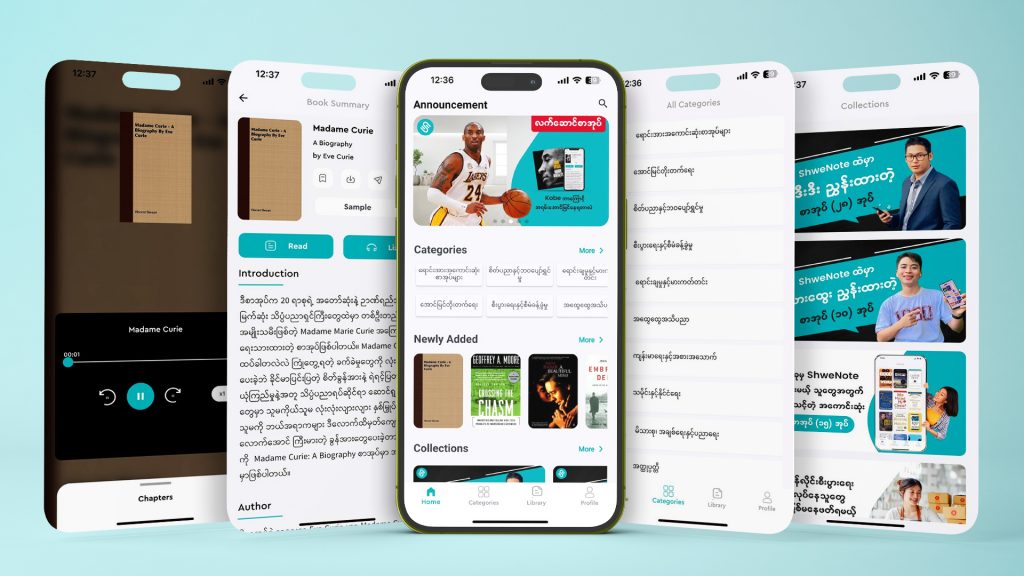 Image: ShweNote
How many users are there in ShweNote?
There are millions of users with 500,000 downloads. There is still weakness in data technology and there is no accurate data so far, but the number of regular users is constantly increasing. It is also gratifying to see an increase in the number of users of reading applications that are not entertainment-only apps such as movie-watching apps.
Which feature do users use the most, reading or listening to audio?
This is definitely audio listening. The reason most people use ShweNote is because of the audio. It is easy for them to read the audiobook which is easy to remember. Some users said they use ShweNote while driving or while applying makeup.
Let me know the future upgrades for ShweNote App
In order to advance to a higher-level app, I will upgrade the app as much as developers in Myanmar have the ability to do so. There are a lot of things I want to do. It's not a movie-watching app like Netflix, so if it's not good for reading, people don't want to use it anymore. That's why we have a responsibility to make it better, the audio feature must be smooth for example.
Plus, what I want to add is a highlight or note-taking feature. If the user is the one who likes to share with others like me, there is a place to take note. There will be this kind of upgrade these days.
I'm also interested in Gamification. There will be a reward system for reading and giving gifts to those who read the most, which is not money but something like a scholarship abroad. This is what I thought about being later.
What will be your message to ShweNote users?
This is my own product but what I noticed while using ShweNote myself is that I normally don't read History or Science books and it's like they don't belong to me. But the advantage of ShweNote is that it's very easy to read history or science books here. As they are just summaries, they don't have words or details that I don't understand. It is easier for users to think because of its audio listen feature.
My message is that you should read all the other books even if it's not the way you usually read. This is the advantage of the ShweNote Application. I recently realized this. I used to read using foreign book summary applications before, but because they are in English, I only understand books that I used to read. English is not my first language so if I read a real history book, I really don't understand. Then I end up reading books that I understand. Since ShweNote is in the Myanmar language, try reading other books as well. This is what I'm doing right now and I want you to do the same.
Those who want to use the ShweNote Application can download through Google Play Store and App Store. Visit ShweNote Facebook Page and https://www.shwenoteapp.com/ for more detailed information. Users can also check ShweNote Website for "how to use the application".