5 Ways Your Business Can Benefit from Using MO's Financial Services
Managing financial transactions for a business can be time-consuming and stressful. What if we told you that the digital financial solutions offered by Modus Operandi Company Limited, or MO for short, can help cut the time spent by your business on financial transactions by half?
Established in December 2020 and operating under a licence issued by the Central Bank of Myanmar to Shwe Bank, MO has set out to simplify everyday financial transactions for businesses and consumers. Here are five ways your business can benefit from using MO's financial services.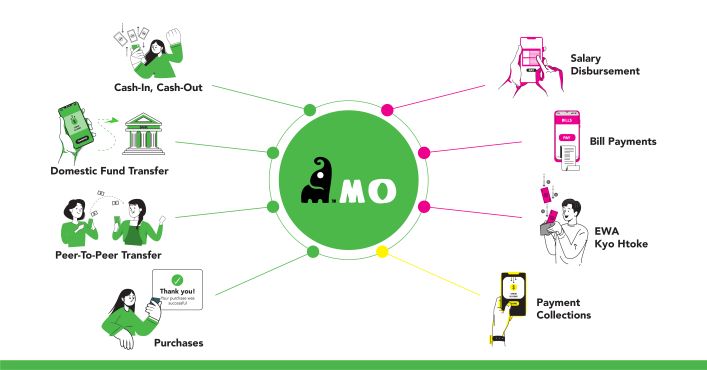 Photo Source – Modus Operandi Company Limited (MO)
(1) Enjoy Flexible, Efficient and Paperless Payroll While Employees Enjoy Easier Cash Outs
MO offers a digital platform for companies of all industries to streamline their payroll. By using a single payroll solution to support their entire workforce, companies can easily update employee data to ensure payroll accuracy and ultimately enjoy time and cost savings.
How it works: On-boarding to MO Business platform -> deposit funds into MO business account -> upload employee information to platform -> make cashless bulk salary disbursement
Companies can disburse salary to employees' MoMoney mobile wallet or mobile phone number, with employees able to cash out at any of the more than 5,000 MoMoney agents located in Yangon and Mandalay regions as well as in Mon State. This removes the need to queue up at banks or source cash for payroll.
(2) Improve Employee Financial Wellness with Kyo Htoke
MO's advanced payroll system is integrated with Earned Wage Access (EWA), which enables companies to provide workers a portion of their earned wages before payday at the end of the month. Named 'Kyo Htoke', companies can use this EWA service to empower employees with access to their earned wages for expenses or emergencies and improve their financial wellness.
How it works: Employee submits EWA application before the deadline (example: 15th of each month) -> employee accesses the Kyo Htoke feature in the MoMoney app and requests for the EWA funds -> funds will immediately be deposited into the employee's MoMoney account
(3) Be Part of MO's Ecosystem of Financial Solutions for Everyday Transactions
In addition to payroll and EWA services, MO offers a suite of financial solutions that will bring efficiency to your business. Meanwhile, your employees will get to enjoy the convenience of performing everyday transactions using their MoMoney mobile wallet.
MO Business
– Loan disbursement
– Payroll disbursement
– Payment collection
MoMoney (Access to >65 services)
– Interbank transfer: to accounts at five key domestic banks
– Transfer: between MoMoney accounts
– Cash in: agent, bank account, all card types
– Bill payments: utility, loan, internet
– Purchases: gaming, entertainment, data packs, top-up
(4) Enjoy Peace of Mind as You Perform Transactions on MO's Secure Platforms
MO's digital financial platforms run on AWS Cloud, a secure, durable technology platform with the highest standards for privacy and data security to defend against emerging and evolving threats related to financial and payment-related fraud.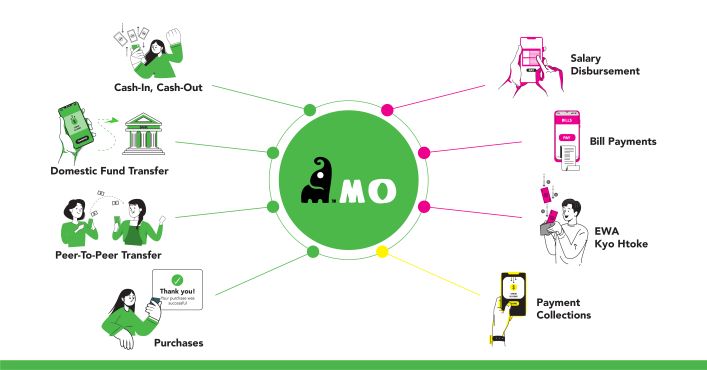 Photo Source – Modus Operandi Company Limited (MO)
(5) Be Engaged and Supported as a Partner by the MO Team
At MO, we believe in a partnership approach to help businesses fulfil their daily financial transactions with ease and convenience. Each MO customer will have a dedicated Account Manager for on-boarding and day-to-day support, and our response customer care team is contactable 24/7 to provide urgent assistance when required.
To learn more about how MO can help improve the way your business manages finance, contact:
Phone: +9514705511 | Email: care@mo.com.mm | Facebook: MoMoney | LinkedIn: MO | Viber Community: MoMoney
Disclaimer: The information provided is merely general information about products and services offered by MO, which are subject to MO's eligibility criteria and the terms and conditions of the product or service.