MPT Postpaid and FTTH Customers Can Make Convenient Bill Payments through MPT Money
MPT Money, a digital money service, has launched a new, secure bill payment option for all MPT Postpaid and FTTH customers, ensuring the safety and convenience of the customers, especially during the current stay-home measures implemented to stop the spread of COVID-19.
All MPT Postpaid (PSTN, GSM, CDMA, ADSL, IP Star) and FTTH customers who are currently receiving monthly invoices or one-time invoices (OTI) can take advantage of this convenient bill payment service through MPT Money, at no extra costs. Additionally, MPT customers will receive 1,000 Ks bonuses for making their payment through MPT Money.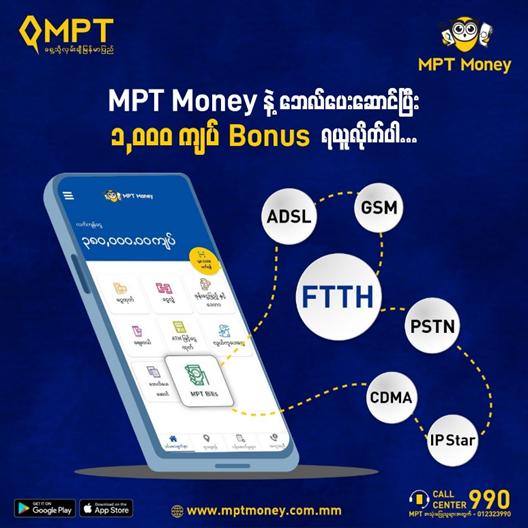 Photo Source https://www.facebook.com/mptofficialpage/
U Khin Maung Myint, Managing Director of MPT Money said "At MPT Money, we are relentlessly working to offer our customers with simple, reliable, and secure digital payment services to not only improve the digital lives of our customers and but are essential during these challenging times of the COVID-19 pandemic. Now, thanks to our new service offering, all MPT Postpaid and FTTH customers can make secure bill payments from the convenience of their own homes. Our services also allow Myanmar people to have better access and control of their financial situation while staying home."
MPT customers need to be registered with MPT Money to utilize the new digital bill payment service. Customers will be guided through the payment process and receive instant responses as well as SMS confirmation after successful payment.
MPT Money application can be used over any mobile network. Customers can download MPT Money Application from http://bit.ly/MPTMoneyAndroid (for Android users) and from http://bit.ly/MPTMoney_iOS (for iOS users) and start enjoying the exciting benefits Digital Payment Services has to offer. Internal Use Only Due to the COVID-19 situation, being able to conduct financial transactions, digitally, are becoming an essential part of Myanmar people and MPT Money aims to improve the customer experience by offering simple, secure, and convenient digital financial services which are available around-the-clock. While more people are staying home due to the COVID-19 situation, MPT Money's Mobile Money Services such as Bulk Disbursements, Payroll and Pension Services, Mobile Wallet Services, Remittance, Bill Payments and Airtime e-Top-Ups, Data Package Purchases, Merchant Payments, Cash-In & Cash-out at the MPT Money Agents and CB Bank ATMs, etc., allow customers to have instant access to much-needed funds and manage their finances securely and conveniently.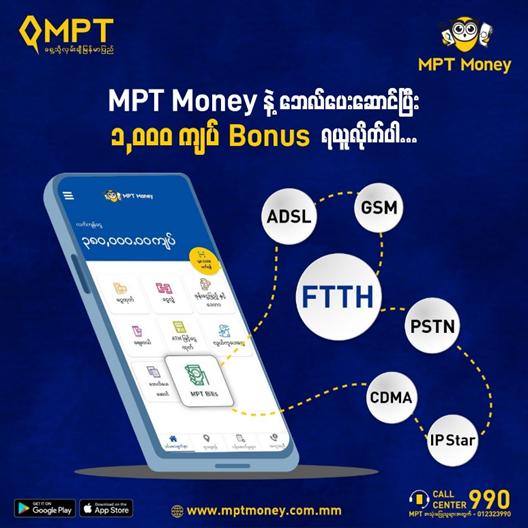 Photo Source https://www.facebook.com/mptofficialpage/
For MPT customers to make bill payments via MPT Money in a more convenient way, MPT customers can also take advantage of an innovative E-invoice system where they will receive their monthly bill statements via SMS or e-mail instead of traditional paper invoices. Digital invoices are not only more convenient but also helpful in saving the environment.
Customers can easily apply for E-invoice service by visiting the nearest MPT Office, contacting Call Centre 106 or via https://www.mpt.com.mm/mm/e-invoice-registration-mm/. After successful registration, the customer will receive an SMS or e-mail to confirm the preferred E-invoice distribution channel.
For more information about MPT Money's services, please call 990 or (01) 2323990, or visit www.mptmoney.com.mm and MPT Money official Facebook page at www.facebook.com/MPTMoneyOfficial.