New Reno Series OPPO Reno8 T "The Portrait Expert" launched in the Myanmar Market
The world's leading smartphone brand OPPO has introduced the new Reno Series OPPO Reno8 T, which is so-called "The Portrait Expert" at the official launch event held on March 7, at a price of 899,000 kyats in the Myanmar market.
OPPO Reno8 T can be purchased in Sunset Orange and Midnight Black colors and pre-order will be available from March 8th to 12th. Customers will also receive a Sport Bag as a special gift. At the same time, if you purchase OPPO Enco Buds2 together with OPPO Reno8 T, you will receive a 10,000 kyats discount gift voucher.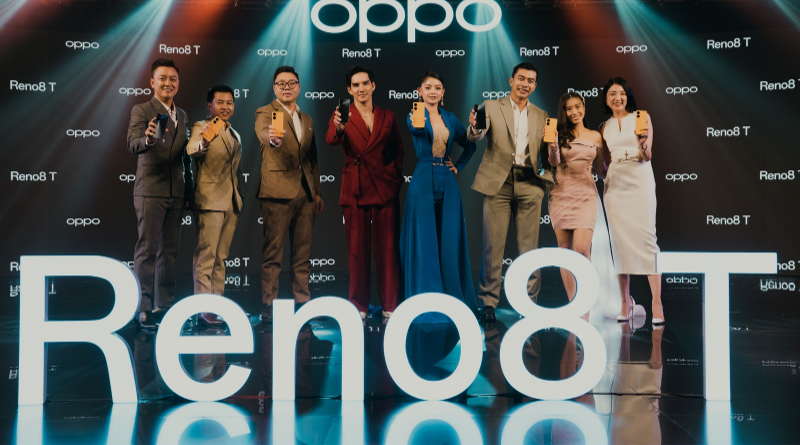 Image: OPPO
"The Portrait Expert" of Reno 8 T will be the first smartphone with a 100MP Portrait Camera, which is better than all previous Reno Series Smartphones, and will be able to capture landscape and portrait photos with the best quality. Reno8 T's 100 MP Camera will provide quality and clarity even when taking pictures while zooming in, and you can also resize and crop the pictures you take. If you crop extra spaces in the detailed picture you took, you can adjust and cut it as you like without losing the quality of the photo.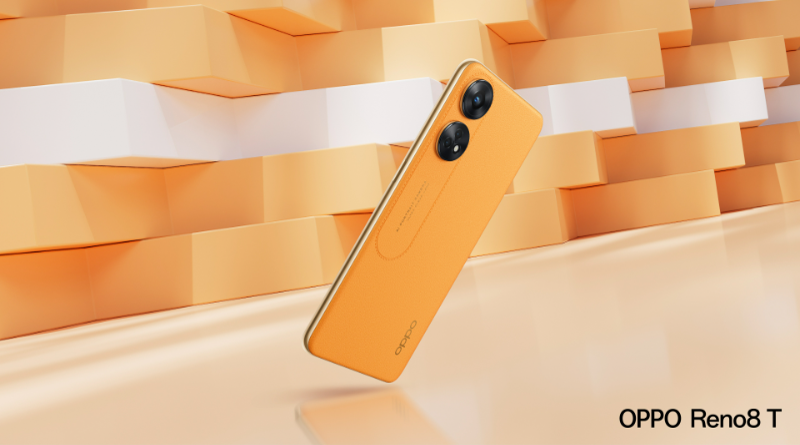 Image: OPPO
OPPO Reno8 T includes 2 MP Depth Camera and AI Portrait Retouching and Bokeh effect Portrait functions, a 32 MP Front Camera that can capture clear selfie images in any situation and a 2MP 40x Microlens that can zoom in 40 times as a unique function to capture and learn small worlds as new things.
OPPO Reno8 T can be purchased in two colors, Sunset Orange, and Midnight Black, and it has been released with an Ultra Slim Design, which will make it easier to hold. The Sunset Orange color is produced with Premium Fiberglass-Leather Stitching Design that will appeal to young people, and the sides are made of Metal Frame, making it more compact and lighter than the usual traditional leather covers. The Fiberglass-Leather used in the Sunset Orange color was tested the resistance test by rubbing with alcohol 5,000 times, 200,000 times with denim, and 10,000 times with pencil eraser. The Midnight Black color is produced with OPPO Glow Design for those who like stable colors. The Orbit Light function, which is a beautiful sign of OPPO, is now included in the OPPO Reno8 T, and notifications can be set up to 8 colors as you like.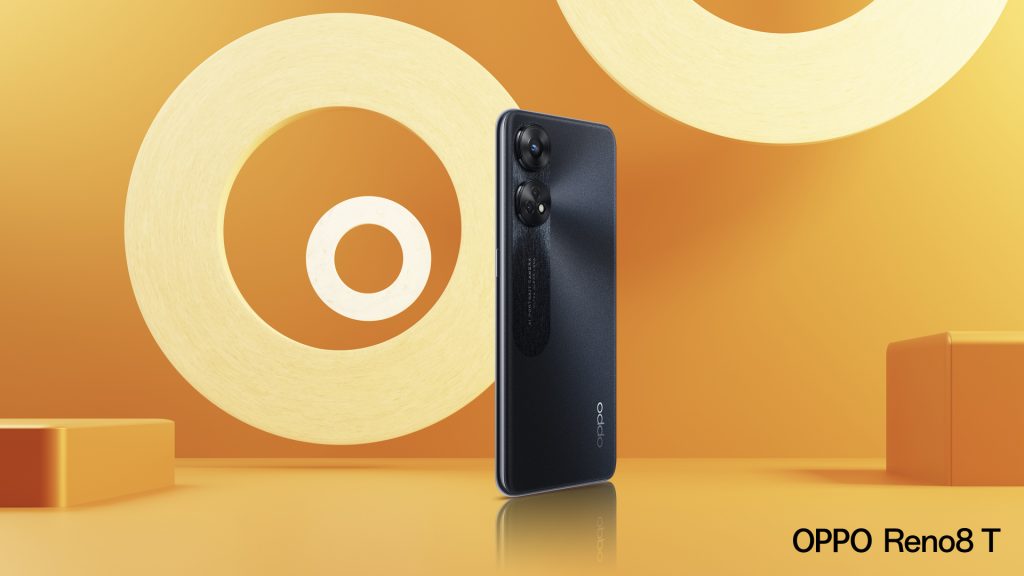 Image: OPPO
OPPO Reno8 T has a large 5000mAh battery installed, along with Type C charging cable, OPPO's 5 Layer Protection technology and 33W SUPERVOOC fast charging system. It uses an Octa-Core Processor built with MTK Helio G99 (6nm) technology and includes 8GB RAM and 128GB ROM, as well as OPPO's RAM Expansion technology. Plus, the latest ColorOS Version 13 based on OPPO's own OS, Android 13, has been used to provide smooth experience for every phone user. OPPO Reno8 T includes Dual Stereo Speaker with Ultra Mode.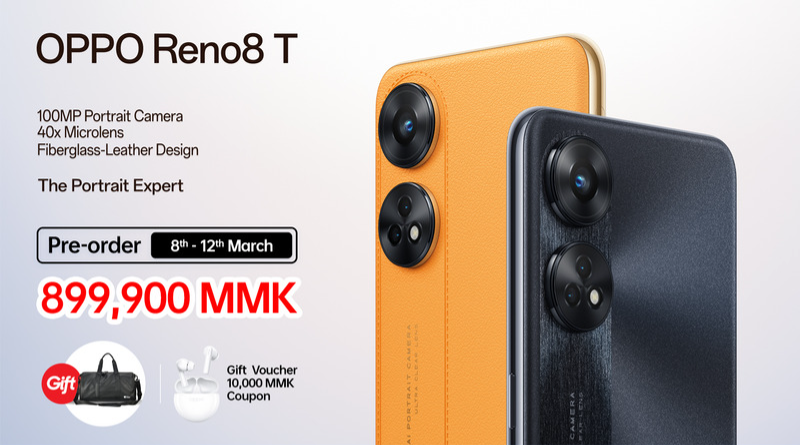 Image: OPPO
The OPPO Reno8 T, released with the theme of "The Portrait Expert", can be pre-ordered from March 8th to 12th at 899,900 kyats and OPPO will announce the date when it will be available for purchase in the market soon. Visit OPPO Myanmar for more information about OPPO Reno8 T.