From startup to a successful Rangoon.tech (Interview with Ko Kyaw Zin Htet, Co-Founder of Rangoon.tech)
"We will discuss for you even if we don't get the project and will refer someone who can do it better."
Rangoon.tech is a place that provide Augmented Reality (AR) and Virtual Reality (VR) services. In short, it's also known as AR/VR service. It is a startup business started with the purpose of helping brands.
Rangoon.tech was started in October 2019 and currently providing Augmented Reality (AR) and Virtual Reality (VR) services. Facebook AR Filter and Messenger Filter services are also available. Plus, it also provides Instagram Filter, Viber Lens as well as Web Based AR Services. Now, Virtual Word, VR Solution services that can host events and exhibition online have also started to provide. Rangoon.tech is providing affordable and user-friendly AR and VR services.
For the start of Rangoon.tech, Ko Kyaw Zin Thant, of the Co-Founders of Rangoon.tech explained "While researching where to provide our services, we found out to help businesses for Marketing, Branding and their campaigns. During COVID-19 pandemic, all the businesses and campaign came online. We helped to run campaigns using AR/VR. Our mission is to help businesses connect and engage with the audience online."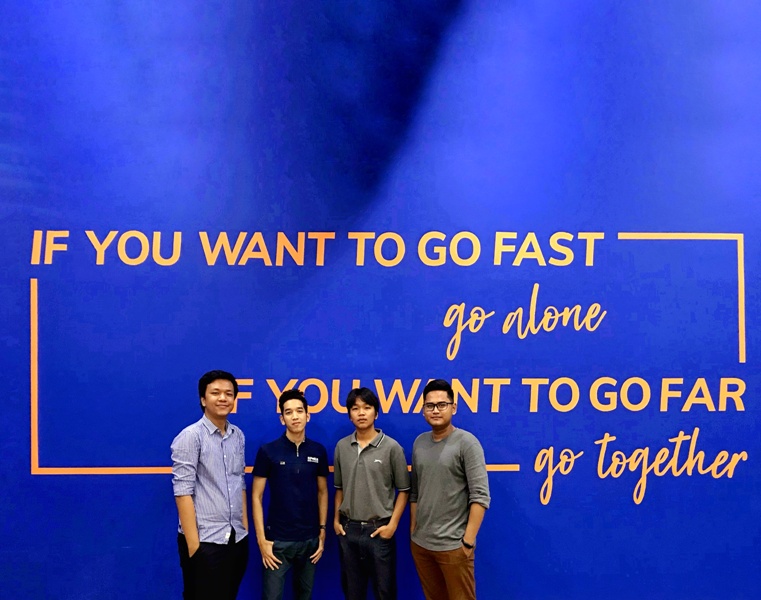 Photo .. Founders of Rangoon.tech Startup Business, Ko Kyaw Zin Htet, Ko Wine Lamin Lwin, Ko Aung Myat Htet, and Ko Paing Khant Min
Rangoon.tech won the Startup Challenge Competitions organized by Phandeeyar in 2018 and Hackathon by Ooredoo in 2019 as well. At that time, the AR service industry had already become popular.
"Our goal is to help brands reach into the Metaverse. We want to level up our company that can provide end-to-end metaverse solution. We currently have Social AR Filter service, Immersive Brand Experience (AR/VR), Branded Mini-Game services and Digital Promotion Campaign Tool services. We are helping User-generated Content Campaigns, Engagement Campaigns, and Experiential Marketing Campaigns with our solutions," Ko Kyaw Zin Htet added.
AR filters are the most popular service as well as AR Games where you can tilt your head left and right to play. Service charges are set according to the local market price. Rangoon.tech is currently working with Marketing Agencies, and still providing services to International Companies. In terms of brands, we are working with Ooredoo, Citymart, and Unilever.
"We are trying our AR/VR service to provide Metaverse Solution. We are preparing to establish brands on the next Metaverse and make Metaverse Event as Facebook has also created a Metaverse. For the international expansion, we are preparing to expand our services in neighboring countries such as Cambodia, and Thailand," he added. 

Photo Source https://www.facebook.com/rangoon.x
The truth is that AR/VR service providers in Myanmar are almost not-existent. In case, Rangoon.tech was successful for choosing the right path as a AR/VR service startup.
Ko Kyaw Zin Htet said "We are more skilled in terms of AR/VR for learning every day. You can contact if you need help with AR/VR. We will discuss for you even if we don't get the project and will refer someone who can do it better. We are helping our best in this small community. We are currently working with Brands and Marketing Agencies the most. In case, you can discuss about AR/VR and exchange knowledge."
Visit the link below for more.