Easy! Convenient! Wave Money
Since Wave Money has many advertisements on such as TV, there are many people who have heard even those who have never used it.
Wave Money is a mobile money service that Yoma Bank, top private private brand in Myanmar, formed a partnership with Telenor, one of the world's top mobile service companies.
Those who using Telenor can easily download a Wave Money application from the Play Store and create a Wave account and send money from your smartphone anytime anywhere.
Even people who do not use Telenor can send money from any store called Wave Shop.
In order to send money from Wave Shop, the following six items are required.
1. Telephone number of the person sending the money
2. Identity card of person sending money (NRC, passport, driver's license etc)
3. Telephone number of person receiving money
4. Identification card (NRC, passport, driver's license etc) of the person who receives the money
5. Remittance amount
6. Service fee (depending on remittance amount)
Since the Wave account is not necessary for both the sender and the recipient, you can send money to anyone with or without a Wave account.
Even if there is no Wave account, it is easy to send.
1. Go to the nearby Wave Shop.
2. Tell the store person your phone number and the phone number of the person who will receive the money.
3. Tell your NRC number.
4. Pass the PIN between the sender and receiver. (It is necessary to tell the PIN to the recipient as well)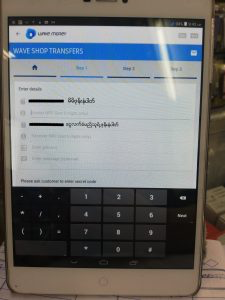 5. Tell the amount of remittance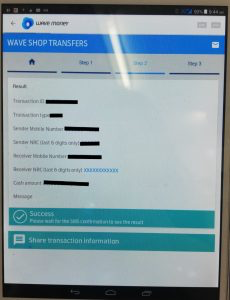 When sending is completed, SMS reaches the mobile phone of the person who sent it, and SMS reaches the recipient that money has arrived.
The recipient will show the SMS to the store clerk at the Wave Shop where you will go to pick up the money, and the recipient can receive money simply by tapping a PIN number.
The following image is an SMS that informs that the sender sent money and that the recipient received it.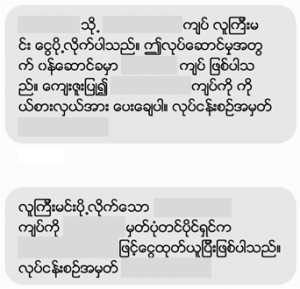 The following image is an SMS informing that money has arrived when I am a payee.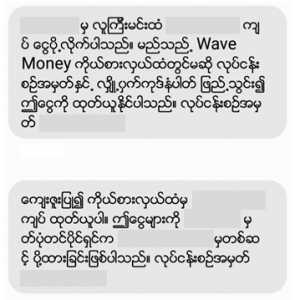 Do not worry if you forget your PIN number when you receive money.
In that case you can call the customer help line and get your PIN number.
Now it has become possible to send up to 500,000 kyats.
One thing to note is that when you receive a large sum of 500,000 kyats, there may be few shops that are keeping 500,000 kyats money in the Wave Shop to pick up.
When there is not a large amount of 500,000 kyats after arriving at the store, it will be a waste of time.
In that case, you should choose the shop according to the amount you receive.
The other day when I went to a small shop with signboard of Wave Money nearby to receive 300,000 kyats, I was told that there is no 300,000 kyats amount in that shop and I could not get the money.
So, I actually thought that it would be better to pick a shop by the amount of money I receive.
Then, either the person who sends money or the person who receives money needs to pay service fee to the shop.
According to the remittance amount as of June 11, 2018 service charge is as follows.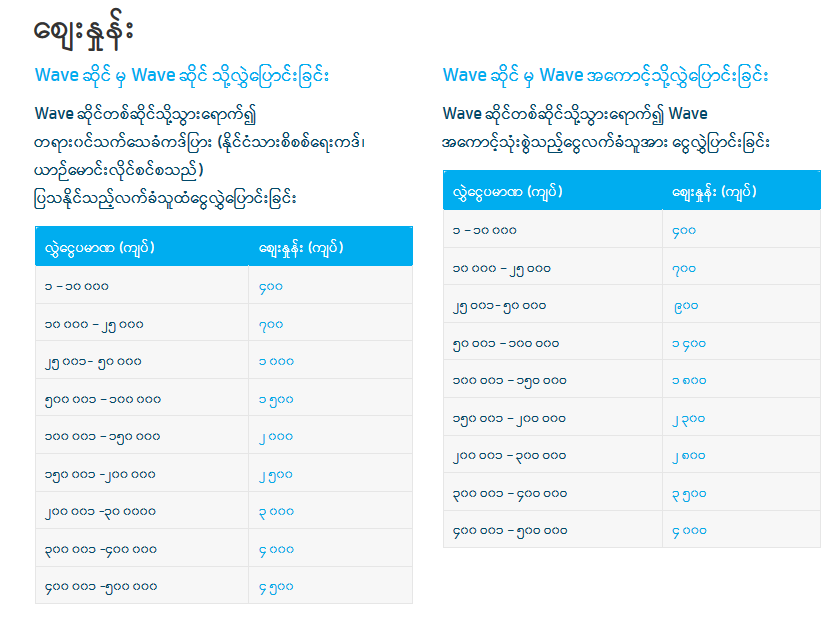 Also, you can easily search nearby Wave Shop from this link.
https://www.wavemoney.com.mm/closest-wave-shop/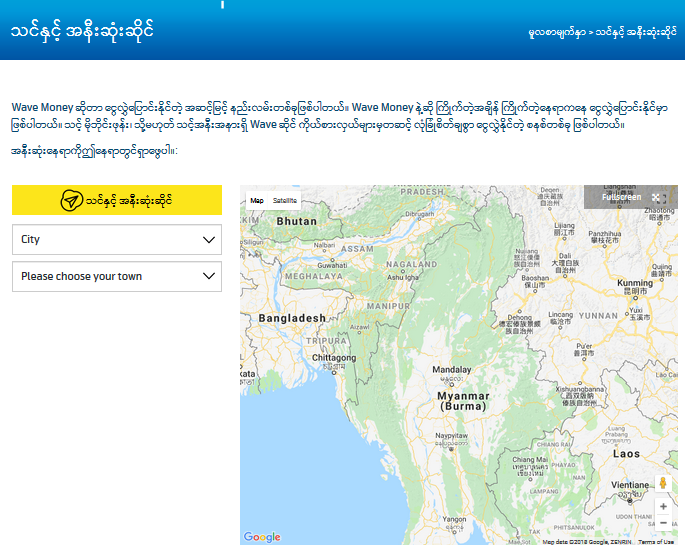 Just go to the link page and enter the location to "City" and "Town", you can search Wave Shop near you.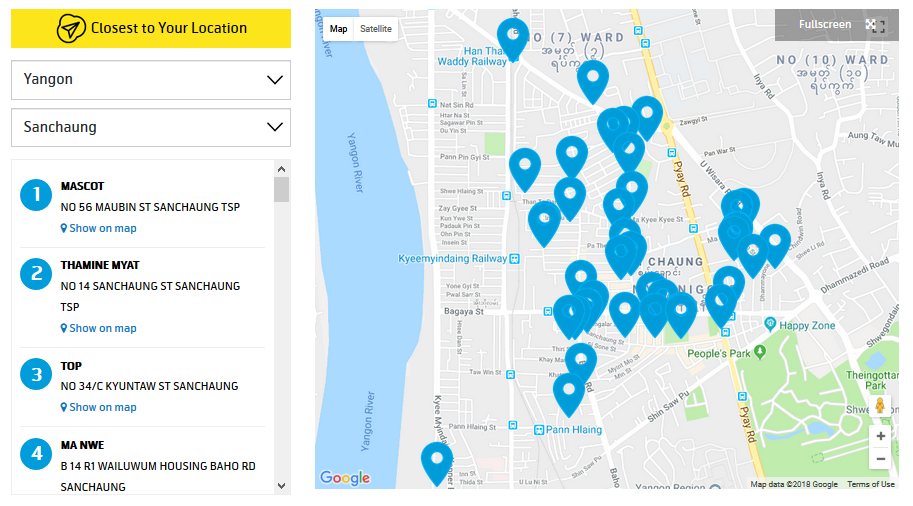 Because there is such a function, it will be convenient and satisfactory to use.
Those who make a Wave Money account can easily send money from that account, and those who do not have an account can easily remit from any telephone number by going to a store with a signboard of Wave Money.
I think that it is one of easy, secure, convenient mobile services that answers the problem on the Facebook page of Wave Money so that users can use it conveniently.
If you would like more information on Wave Money please visit this URL ( https://www.wavemoney.com.mm/ .
If you visit this website, it will be easy to use even if you do not know how to do it.
When I looked into Wave Money, I became more interested, I made a Wave account soon and decided to send money to my relatives.