Airbnb for Myanmar Travelers
Nowadays, as people in the broad world are trying to be able to contact by means of technology at anytime, communication from one place to another and one country to another has increased. It is also the time for all kinds of people touring locally as well as worldwide such as business trip, leisure trip, education research trip.
Most people were familiar with only local trip in decades and nowadays, they are familiar with foreign trip not only to Asean regional countries but also to Europe and America. If we leave home for local trip or foreign trip, we need to rest in a place safely when we arrive.
In this article, I want to present Airbnb website for world travelers that guest can make online booking for homestay places called hospitality service and the owner of room (host) can advertise his or her room by listing.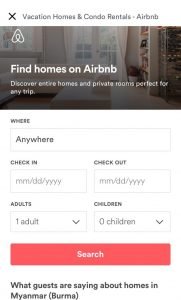 Image Source: https://www.airbnb.com/
Airbnb, established in the last 9 years (August 11,2008), is a service to connect with room owner and hirer.  It has ww.airbnb.com website as well as mobile applications such as iOS, Android, Apple Watch. Users can make registration free in this Airbnb as host (or) guest.
If we make a booking for hiring a room after registration, we need to verify as direction from website. We need to submit Identity Card(passport of NRIC) issued by the government as needed for verifying. We are informed verification within minutes if it is correct and suitable after inspecting. After that, host or guest can continue easily and quickly as needed.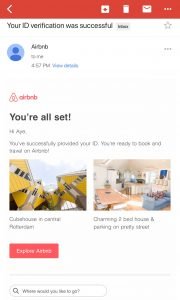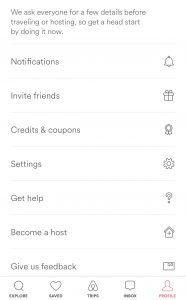 Image Source: https://www.airbnb.com/
We can say Airbnb as one-stop website for traveling because guests who will go leisure trip can not only get for rest but also connect and find services for doing activities such as food tour, biking, trekking in that region.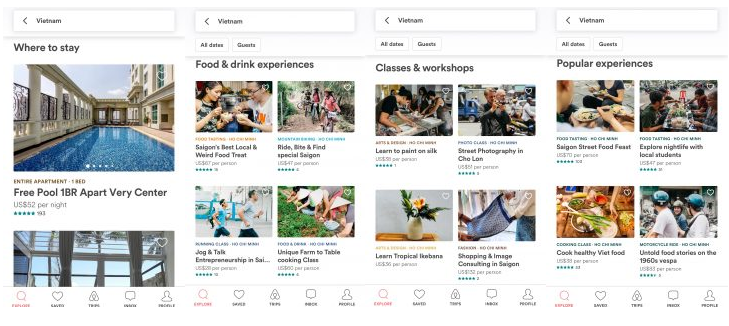 Image Source: https://www.airbnb.com/
For guests
Before hiring a room, they can evaluate place, price, date that they can hire a room, asking for information by sending messages to host and vice versa, room location, disciplines that they will obey when they hire the room, T & C such as booking cancellation, provided things by host (For example- hair dryer, wifi, shampoo) and reviews of previous guests.
For hosts
They can list all their things that they possess and can hire such as bed, long sofa, bed room, apartment, home, garden land, island. Guest can read and evaluate reviews of host and room conditions and also hosts can read and evaluate the information of guest who will hire and the remarks of previous host. Host can specify prices for a day, a week and a month per season. Moreover, host can give services such as short trip.
The side of Airbnb
User profiles are built with rating & review system to safe by building belief between guests and hosts of Airbnb members. Both sides can scrutinize for trust & safety.
Moreover, Airbnb suggests room preparation for host, giving service for guest, providing information about house, things that host should provide for guest, facts that they need to make prevention if they face with emergency such as disaster caused by floods and fire hazard in the website. There is an insurance plan for the damages of rooms (or) things for host.
If host list price of hiring house in Airbnb, it will suggest host depending on the price of likely rooms. But, host can decide the price himself or herself.
If guest and host agree with each other, it will take guest service fees from 6% to 12% on guest, from 3% to 5% on host, and it will take commission 20% for service offered by the owner of home like excursion.
First Idea
Brain and Joe, builders of Airbnb, got an idea to earn money by preparing air bed and breakfast because they need money to pay for hiring room. The long term of Airbnb is Air bed breakfast. Two people who didn't have money began with an idea to get a little money.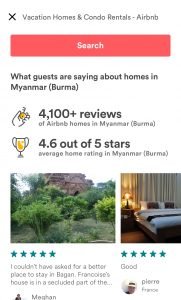 Image Source: https://www.airbnb.com/
When Industrial Design Conference was held at that time in that town, it was difficult to hire a place for staying. Thus, people who will hire, came to them and their idea accomplished. From that time, they could earn thousands of dollars during two months by selling Serials for breakfast. There were 10,000 users and 2,500 lodging that listed in March, 2009. Company value was USD 31 billions   in March, 2017. 150 million users, 3 million lodgings listed by 65,000 towns in 191 countries.
For Myanmar Travelers
Though travelers can travel comfortably without inquiry by communicating with various travel agencies, Airbnb is a good travel, hostility service platform for people who want to draw a tour, people who dislike staying hotel room that is formal, people who bore to communicate with hotel staffs, people who want to get regional knowledge and want to be friends with owners of house in region by hiring with fair price, people who want to stay alone (or) people who want to travel freely and easily, not like timetable of group tour guide.
For host in Myanmar
140 listings in Myanmar can be found on Airbnb website.
Though homestays that are wide in asean regional countries, are not wide in Myanmar now, as government policies have to be changed to be in line with the current situation according to the conditions of the nations and demands, it is a way to get high income by listing on website without any investment, high cost and effort.
For entrepreneur IT geeks in Myanmar
I write a subject to care that Oway, Hello Cabs businesses in local can thrive by comparing with taxi booking online services from other countries such as Uber, Grab and also for emerging hospitality service platform of Myanmar in comparison with Airbnb, Agoda, Homeaway when homestay services can wide.