Reading from Internet or Gold from Rubbish
I want to say that internet is a darkened supermarket. Though there are many wanted things in it, it is difficult to decide and choose good or bad, useful or useless as it is dark. If you want to get useful things, you can get the things only if you have a light you can see yourself. If we study subjects from internet and we want to get good results, we need to control perception that we can decide and know and intelligence that we can use to balance. If not, we can waste our time and have loss among wrong information and lies. If we say internet, some internet users see and use social network page Facebook that most people used in Myanmar and Messaging App Viber that they can send messages and video files. We will take care that Facebook and Viber are not the places of getting exact facts and applied studies. If we use social network pages extremely, we should reduce using because  social networks are plenty of hate words, gossip and exaggerated words and wrong information.
Let's read books half total time of using social network pages extremely. Let's try to read not only to know the right and wrong but also to get better lifestyle and thinking than current lifestyle. When we discuss about current condition of education, politics and field and future goals, most people blame that youth do not read books. That's right? We conducted a survey to guess and know reading conditions of youth in Myanmar. We Distribution, literary publication, selling literary books with delivery service, conducted a small survey. We Distribution conducted a survey by selecting 500 numbers among book buyers. As We Distribution conducted a survey on book buyers, it is nearly true to an extent though it cannot cover the whole nation. The results of the survey was published on 21th September,2017.
The survey of buying books in regions and states…..
Yangon 42% 2. Mandalay 16% 3. Sagaing 7% 4. Magway 6% 5. Shan 6% 6. Ayawaddy 5% 7. Bago 4% 8. Rakhine 3% 9. Mon 3% 10. Tanintharyi 2% 11. Kachin 2% 12. Naypyitaw 2% 13. Kayin 1% 14. Kayar 1% 15. Chin 0% and….
The survey of buying books in gender…
Male – 60%
Female- 40% and…
The survey of age that most people are interested…
From 21 to 25 years 44%
From 26 to 30 years 22%
From 16 to 20 years 17%
From 31 to 35 years 7%
From 36 to 40 years 4%
From 41 years and above 4% such results can be prescribed.

After encouragement, let's read together. Can we read books from internet? How can we buy and read?
I want to inform you about (Wun Zinn) application that we can buy and read Knowledge and Aesthetic books from internet. Wun Zinn was distributed by Bangan Innovation Technology in 2013. User number is (1) million in the first week of December,2017. It has many readers and audiences with good conditions and results. Wun Zinn is running with above 600 writers and publishers.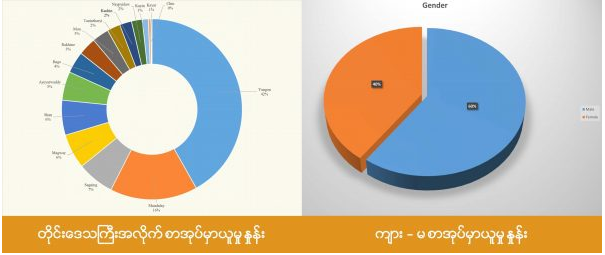 Now, it has above 4000 books and is giving services such as magazines, cartoons, Audiobook (recorded story) and Japan cartoon(Manga)books translated by Myanmar language which are popular among youth. In services, there are three kinds of classification such as free, reading by buying and reading by lending. In reading by buying, we can buy average price from 500 kyats to 800 kyats. Only if we bought books and we change and use other new phone, we can login own Wun Zinn Account again and can download books that we bought without losing anything. In reading by lending, we can read for 14 days by paying lending fees 500 kyats + tax 5%. In buying a book from Application, people have an incertitude fact. They want to read before as a trial. We can read as a trial as we buy books at outside book stores. We can read as a trial by getting Sample Download before buying a book. Knowledge and Aesthetic books, daily newspapers, weekly journals, monthly magazines can be bought. Mizzima and The Voice Daily can be bought as daily newspaper. There are (6) weekly journals and 2 journals are sport journals. (40)Monthly magazines can be bought and read.
The Kinds of Mysterious Magazine such as (1)Exciting(2)Ganbiya (3)Second Sense (4) Mysterious
The Kinds of Fashion Magazine such as (1) The Faces (2) MODA (3) Hair & Style (4) Yati (5) Beauty Secretes (6) Look (7) POSH (8) Fashion (9) NOW! (10) XPRESS (11) Lifestyle (12) Like Creative (13) ART Monthly
The Kinds of Literature and Art Magazine such as (1) Eternal Light (2) Shwe Amutay (3)Kalyar (4) Mahaythi (5)Apyosin (6) Peace (7) Moemakha (8)Thukhuma (9)Shape and (10)Correspondent..
The kinds of Health and Life Style Magazine such as (1) Food (2) Living Fashion (3) Ziwaka (4) Health Guide (5) Parami Healthy (6) Healthy For All (7) Family Life (8) Celebrity Cooking..
Magazines published by English language…
(1) Frontier Myanmar (2) Mizzima (3) My Magical Myanmar (4) Thura Swiss Newsletter and (5) The Irrawaddy, such many kinds of magazine can be selected and read.
Wun Zinn application can be downloaded free from Google Play Store for Android phones and from App Store for iphone (ios) phones.
I describe the use of Wun Zinn application together with pictures.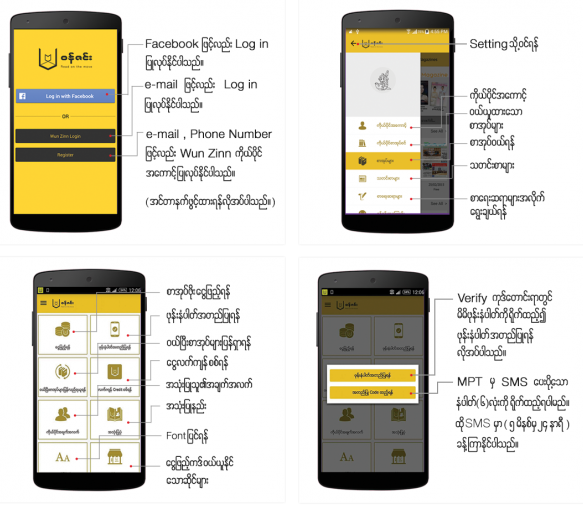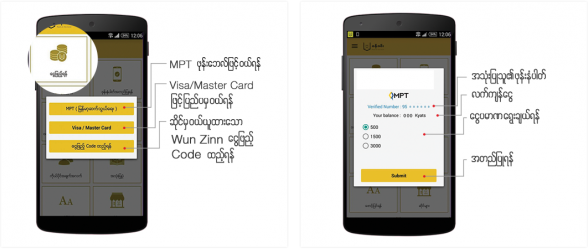 Image Source: http://www.wunzinn.com/manual
I wish all readers and audiences of Myanmar Tech Press to have better way to progress and better life by using the technology best.
Hein Moe