KBZ Bank Donates Power Generator to the National Health Laboratory to Ensure Seamless Operations and Support COVID-19 Testing
KBZ Bank has supported Myanmar's National Health Laboratory (NHL) with the donation of a power generator urgently sought to ensure seamless operations at its facility in Yangon.
The power generator will provide electricity to operate equipment in the NHL such as laboratory freezers which run 24/7 to store COVID-19 and other test samples. The power generator will also supply the electricity for a COVID-19 testing machine at the NHL facility which can test more than 1,400 people within 24 hours.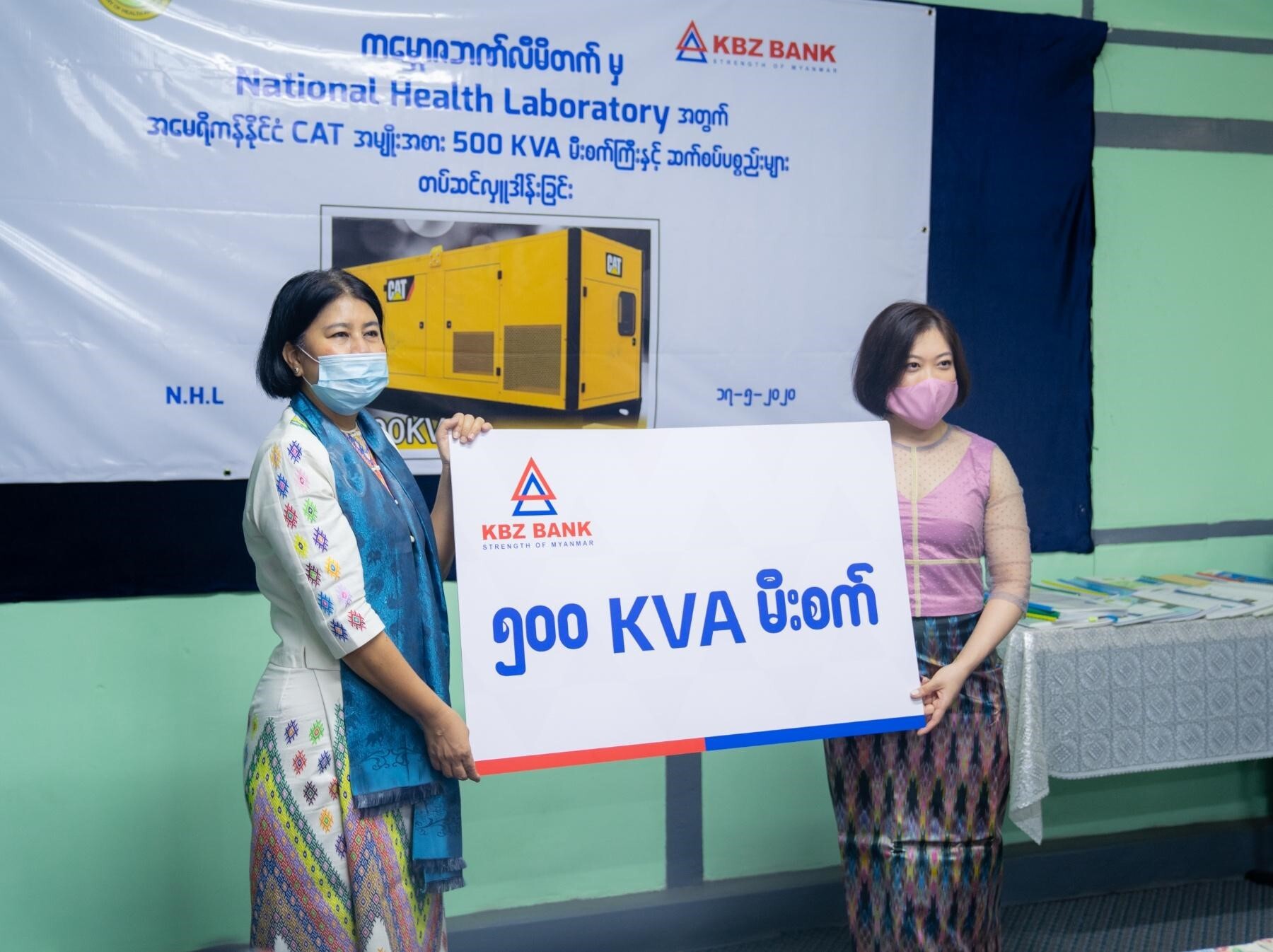 Photo Source https://www.kbzbank.com
KBZ Bank heeded the call for support and donated an American-made Caterpillar C15 500 kVa Diesel Generator Set, along with the Auto Transfer System (ATS) and ground earthing equipment for the installation and operation of the power generator valued at MMK 125 million.
Professor Dr. Htay Htay Tin, Deputy Director-General of the National Health Laboratory, shares, "I would like to thank KBZ Bank for this generous donation of a power generator and related equipment to the NHL as it greatly contributes to our mission. At our facility, we have large Thermo scientific -80°C -30°C lab freezers, also known as ultra-low freezers, to store test samples. Protecting these samples is important for us to conduct COVID-19 molecular diagnostic tests as well as research for our ongoing and future projects. As these lab freezers require a certain amount of electricity, the power generator will ensure they are adequately powered up 24/7."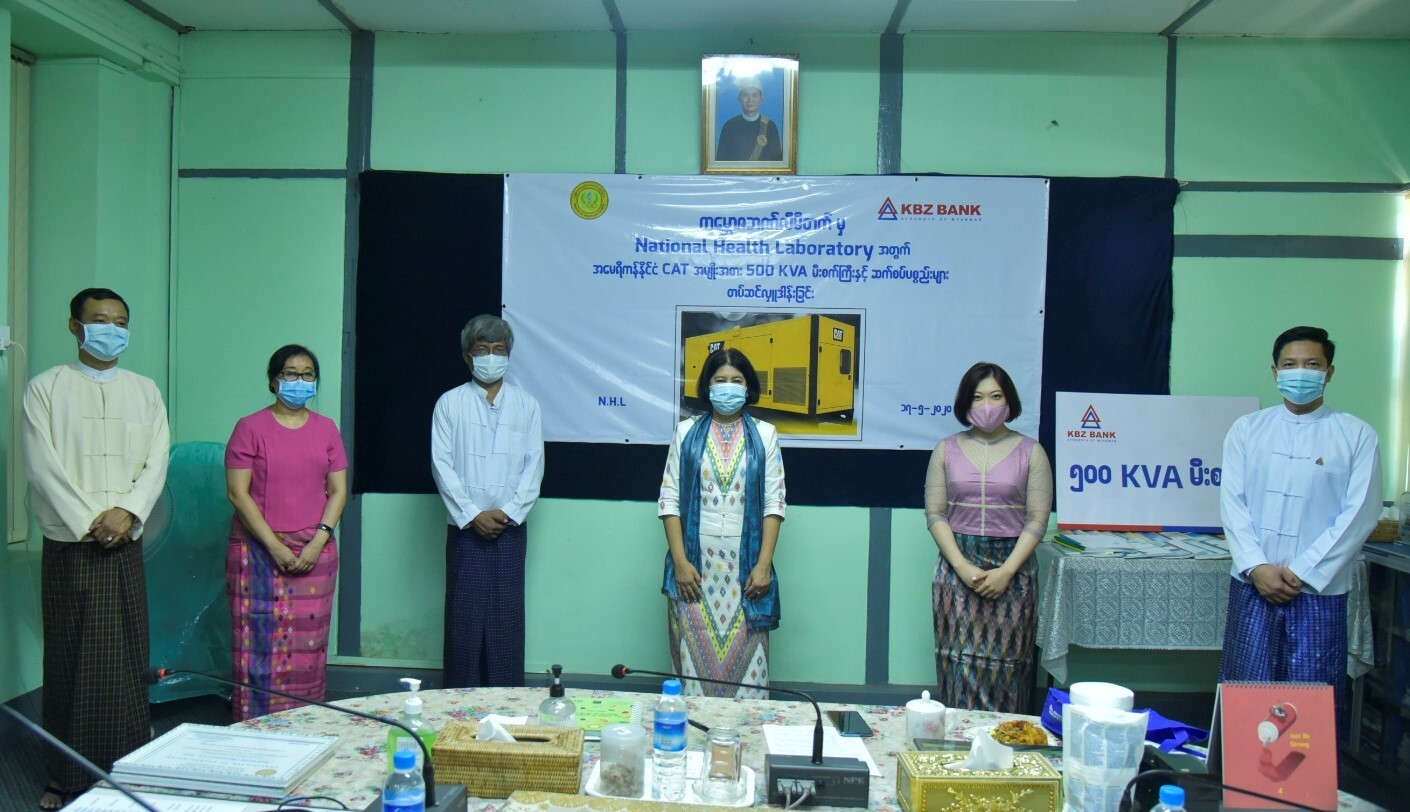 Photo Source https://www.kbzbank.com
"As Myanmar works to contain the COVID-19 infection rate, it's critical that all sectors and communities stand together to support the incredible effort of public agencies. This donation is our way of supporting the National Health Laboratory with the important testing and research work that the National Health Laboratory is doing to keep people safe and protected at this time," said Daw Nang Lang Kham, Deputy CEO Of KBZ Bank.
Since 26 February 2020, KBZ Bank, KBZ MS General Insurance, KBZ Life Insurance, Myanmar Airways International (MAI), and Air KBZ together have made donations valued at MMK 3.4 billion to support the containment, prevention, and treatment of COVID-19. The contribution of the power generator and related equipment to the NHL raises this donation value to MMK 3.5 billion.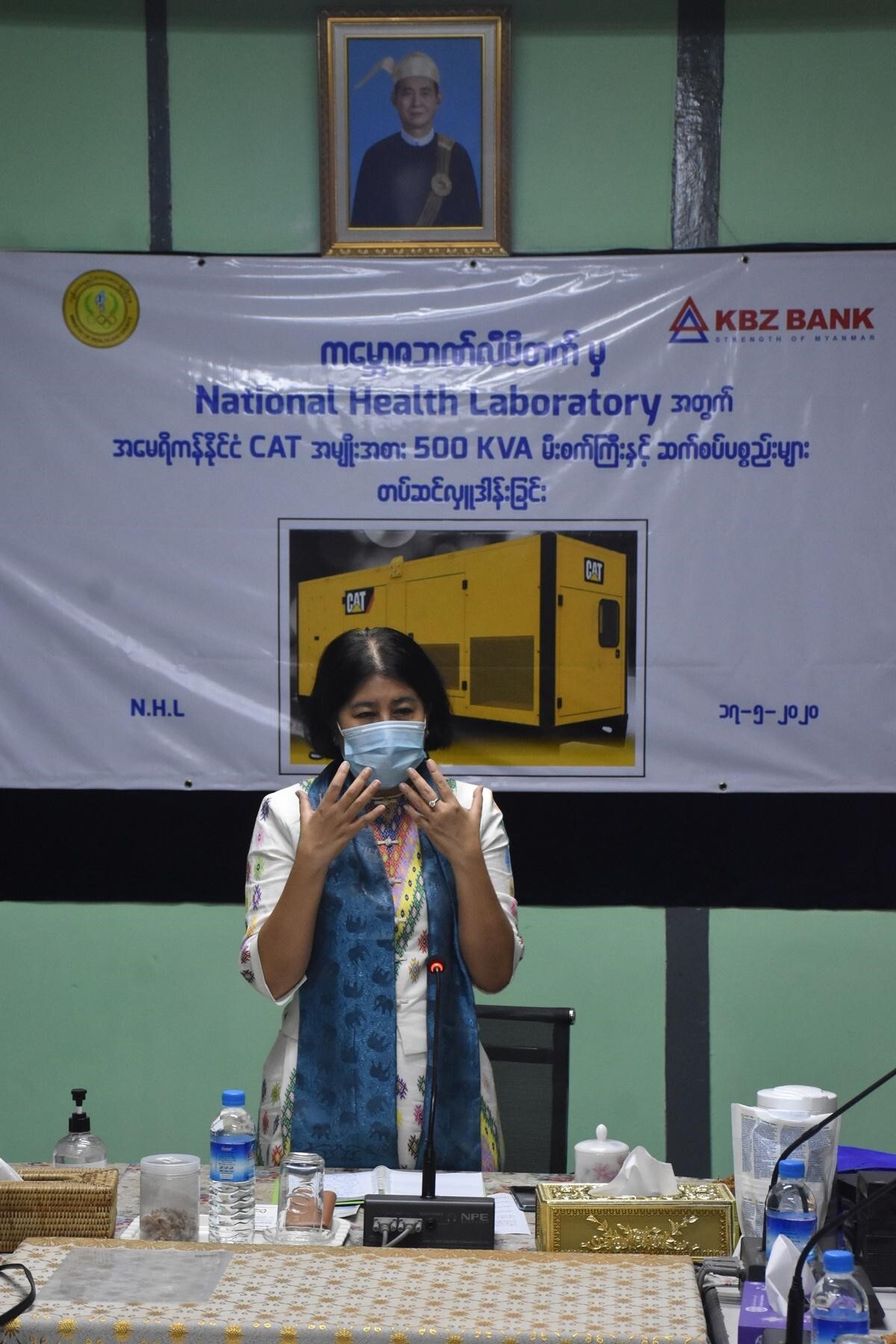 Photo Source https://www.kbzbank.com
KBZ Bank is Myanmar's largest privately-owned bank, with over 500 branches. Headquartered in Yangon, Myanmar, KBZ Bank's vision is to improve the quality of life in Myanmar through banking. KBZ Bank presently accounts for approximately 40% market share of both retail and commercial banking in the country. The bank is leading the way, particularly in digital banking and technology, for Myanmar's rapidly developing financial services industry through an approach that understands the opportunities of innovation, the needs of the Myanmar people and the unique context of the country's economy.