Ooredoo Myanmar Launches the Internship Program to provide Career Opportunities for the Youths
Ooredoo Myanmar launched an internship program for 2023 to provide career opportunities for Myanmar youths and develop local talents to work in the booming telecom industry.
Telecommunications has become one of the fastest growing industries in the world. With the growing demand for high-quality communications services among the communities, there is a growing need of competent professionals in the different functions of telecoms industry; whether it could be in technology, digital, IT, Finance, Sales, Marketing, HR, Corporate Communications sectors.
Ooredoo Myanmar's internship program will provide a strong knowledge of Telecom Business as it combines classroom trainings, coaching during the internship period and job rotations in cross functions. The internship period is 3 months and after the program, selected talents will be offered with a career in a progressive environment at Ooredoo Myanmar.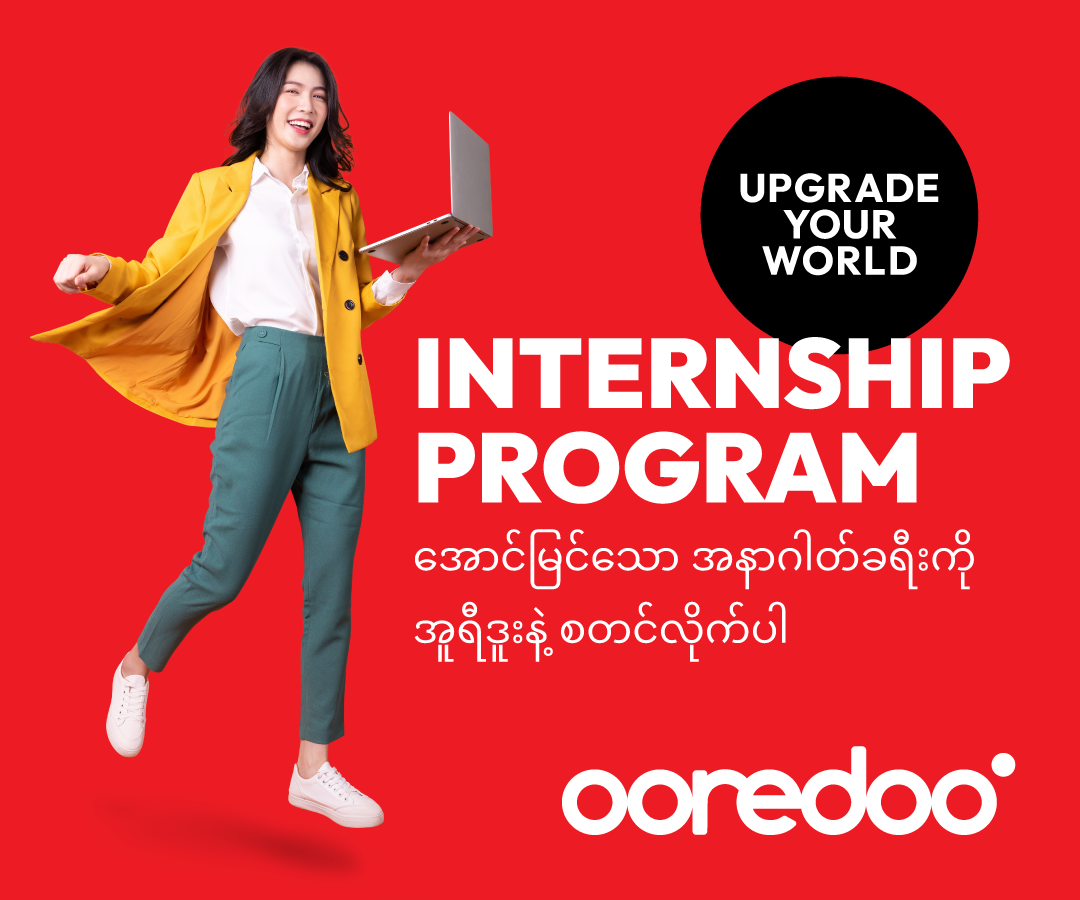 Image: ooredoo
Mr. Jeremiah Ratadhi, Chief Human Resources Officer of Ooredoo Myanmar said   "Youths are the futures of our societies. Through Ooredoo Myanmar's internship program, we would like to offer growth opportunities for Myanmar youths to expose with Myanmar's growing telecom sector. The selected interns will have a chance to explore the career of their choice among several functions in an international telecommunications company. We welcome the interesting candidates to try out this exciting opportunity. I'm sure the participants will have an invaluable experience of being a telecom professional at Ooredoo Myanmar."
The requirements to apply for the program are as follows:
must be a citizen of Myanmar
must be a graduate or final-year student in good academic standing. For example – GPA 3.5 or above or above 80% marks in subjects
must be under 25 years of age. (At the time of application registration)
interested in building a career in the telecom industry
a potential leader with full competence and sense of responsibility
capable to work both independently and within an organization.
fluent in written and spoken English.
Ooredoo Myanmar will provide a range of internships in several fields, including Technology & Information, Human Resources, Finance, Marketing, B2B and Wholesale, Digital, Business Intelligence and Analytics, and Corporate Communications. Interested candidates can apply through the digital form at this link – https://shorturl.at/AYZ79 . Applications are open till Jan 31st, 2023.